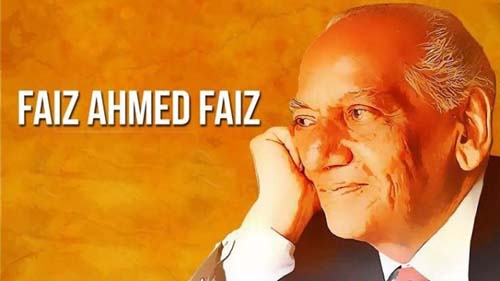 Why Faiz Ahmed Faiz was more revolutionary than romantic
Muqbil Ahmar
Pakistan's best poet and, arguably the world's best, often comes across to people as a sophisticated and subtle artist who preferred speaking in metaphors, idioms, and similes – with great felicity for symbolism and imagery.
No doubt, Faiz was a master craftsman of language – playing and toying with words and phrases and imbuing them with new meanings and ideas, and nuances. His felicity with languages and his technical superiority elevated him to the league of the best in the world.
His lines, such as Mujh se pehli si mohabbat mere mehboob na maang (My beloved, don't ask for my love of yesteryears) or Dono jahan teri mohabbat mein harke (having lost both the worlds in your love) have now become anthems for people in love, and also for those looking forward to an evening of musings over a cup of coffee.
But can we imagine Faiz as a sloganeering revolutionary with the power to move masses to instant action? To stir people so much that they would openly defy the writ of the law? It would be difficult for most to picture that, but it's true.
One reason why it may be difficult for many to visualise Faiz as a revolutionary on the streets is because of the way he conducted himself in public. He was extremely mild-mannered and soft-spoken, with an awful reciting style. A look at the publicly available images of Faiz is enough to drive home the point. In most of the pictures, he is seen as a suave and sophisticated gentleman, mostly dressed in a dark, pin stripped suit with a tie and other sartorial paraphernalia.
All these factors may have fuelled the popular perception. But such was the power of his words that people, on several occasions, defied the writ of the establishment, and walked with him and sang with him.
However, Faiz was always a rebel and a revolutionary at heart. On umpteen occasions, he wrote with great effect and fervour, inciting rebellion, openly advocating the overthrowing of oppressive regimes and exhorting people to take to the streets. Faiz can be seen walking side-by-side with the poor and the oppressed, with the landless and the powerless. Never one to toe the official line, Faiz always directly attacked dictatorship and imperialism, tyranny and hypocrisy.
One famous instance was in 1985, when celebrated singer Iqbal Bano – dressed in a black saree, an attire that had been banned by the administration – recited his nazm (rhyming verse) Hum Dekhenge to a packed auditorium in Lahore, with more than 50,000 in attendance.
The programme was organised in Faiz's memory and the permission to hold it had been sought with great difficulty. By the time the singer hit the crescendo, the audience started singing with – and the auditorium reverberated with chants of "Inquilab Zindabad (Long live revolution)". The singing went on even after the organisers hurriedly had the lights switched off and the microphone disconnected, leading to a near-riotous situation.
Hum Dekhenge was an open criticism of the rule of Zia-ul-Haq, telling people about that day in the future, when autocratic regimes would be overthrown and, in this way, asking them to take to militant struggle.
Jab zulm-o-sitam ke koh-e-giraan, rui ki tarah udjaayenge
Hum mahkoomon ke paaon tale, yeh dharti dhad dhad dhadkegi
Aur ahl-e-hakam ke sar upar, jab bijli kadkad kadkegi, hum dekhenge
(When mountains of tyranny will blow away like cotton,
When the ground beneath the feet of us, who are the oppressed, will shake and tremble
When thunderous lightning will hover over the rulers, we shall surely witness)
Jab arz-e-Khuda ke kaabe se, sab but uthwaaye jaayenge
Hum ahl-e-safa mardood-e-haram, masnad pe bithaaye jaayenge
Sab taaj uchhaale jaayenge, sab takht giraaye jaayenge, hum dekenge
(When idols of falsehood would be cast aside from the abode of God (Kaaba),
When we-the pure, the outcasts of sacred place (haram) would be placed on thrones,
When crowns would be tossed around, when thrones would be demolished)
Writing about the iconic nazm, poet Gauhar Raza says: "Listening to Faiz's poetry, even when sung by the most celebrated musical diva of the country, was an inherently anti-imperialist, anti-dictatorship and anti-fascist act. It was highly subversive. We may not realize it, but tyrants always recognise the explosive potential of an apparently harmless piece of text."
The poem "Dua" is another such instance. Faiz doesn't use harsh words, but he doesn't mince words either; he is utterly direct and absolutely unambiguous. The hard-hitting words shock the reader with their power and clarity. The first couplet goes thus:
Aiye haath uthaayen hum bhi
Hum, jinhe rasm-e dua yaad nahin
Hum, jinhe soz-e mohabbat ke siva
Koi but, koi khuda yaad nahin
(Let us raise our hands in prayer, we-who remember little of the tradition of prayer, We-who remember little except the delightful pain of love, We -who remember little of idols and gods)
The establishment was well aware of the incendiary power of Faiz's art; no wonder he often found himself within the four walls of a prison. He openly criticised dictatorial regimes; he was a staunch critic of the government's actions in East Pakistan (now Bangladesh) when the country was being ruled by Yahya Khan. He was jailed for the infamous Rawalpindi case by Liaquat Ali Khan's government in 1951 and stayed there till 1955.
In 1958, he was again detained by President Iskander Mirza, for allegedly publishing and promoting pro-communist ideas. Even during Zia's years, he was under constant surveillance. But none of these tribulations ever perturbed him; he stood steadfast in his beliefs and actions.
On his frequent incarceration, Faiz used to say: "Like love, imprisonment is a basic experience, for it opens many new windows for the soul."