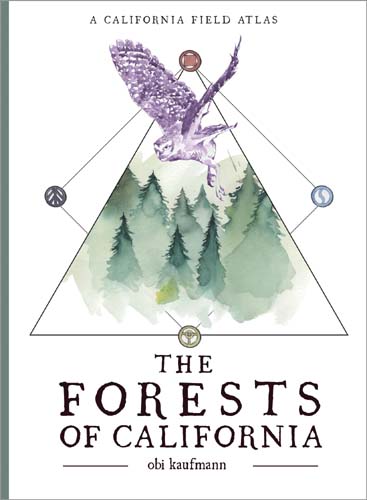 Book review: The Forests of California
Pamela Biery
Obi Kaufmann, who brought us The California Field Atlas (#1 San Francisco Chronicle Best Seller) presents another major work, The Forests of California. This is the third of six books in Kaufmann's planned series exploring the state's diverse environment and is the first of his planned "California Lands" trilogy.
An atlas is a collection of maps, illustrations and text. A field atlas is designed to be used in the 'field' as an ongoing resource, and Kaufmann gives us something rich, distinctive and fascinating. Dive in wherever you like to find a page that engages and keeps you turning more pages, or if you prefer, stop to learn more about a specific forest or tree in California. This book is not just a reference tool, but could be seen as an invitation to think differently about habitat, vegitative alliances and the hope we can hold through better understanding of our relationship to place.
Kaufmann's basic premise that we protect what we love, and we love what we know, has led him on a journey of sharing from his vast field experience and mind for creating a mix of data points with personal expression. Add poetry, calligraphy and stunning watercolors to science and ecological history, and you can begin to get the picture of Kaufmann's humanistic approach to nature.
Kaufmann does not presume to be a scientist and is the first to recognize how his own passion and thousands of miles of backpacking California have shaped a unique perspective. In his recent LitQuake interview, Kaufmann acknowledges,
"I am coming to you with all this other potentially treacherous subjectivity. I am not inviting you a lot to come to your own ideas….This is the result of my conclusions… I want to excite and expose how exciting a time it is to become a student of ecology."
Divided into nine sections which retrace the history of California's formative influences over a long arch of time, it offers a perspective of biodiversity and native vegetation alliances in California's forests. Watersheds, habitat and stewardship figure into the scope of topics addressed, which reach forward into the next century.
Every so often, a book presents something so profound that it goes far beyond the written page and reaches out to transform not only thinking, but acting. The Forests of California is such a book.
Kaufmann describes his passion for forests as something both satisfying and whetting an appetite for more. An apt description for a book that leaves one waiting for the next set of new ideas to embrace.
"It is like a magic well. If I could take a drink of water and the more water you drink, the more water there is in the well. It is that deep, robust, beautiful and romantic, that I could just make a map a day for the rest of my life and never tell the whole story…I could make a hundred maps a day for the rest of my life and never tell the whole story that I wanted to tell."
Whether for yourself or gifting, Obi Kaufmann provides a quiver full of fine words and art, opening doors to the natural world we inhabit.