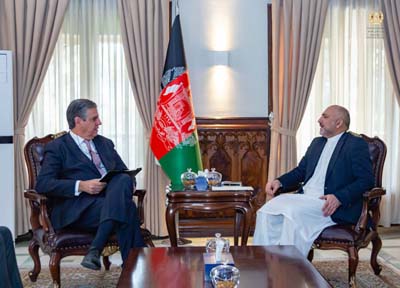 Violence will ruin Afghan peace process: Ambassador Stefano Pontecorvo
Newswire
Kabul: NATO Senior Civilian Representative in Afghanistan Ambassador Stefano Pontecorvo has warned that violence will ruin the peace process.
The envoy raised his grave concerns about the fresh wave of violence in Afghanistan, particularly the attack in Helmand.
"The continuation of these attacks will impact the Doha peace process," he said. The NATO envoy said that the level of violence was very high, adding a continued violence only takes lives of the Afghan people.
The NATO's Senior Civil Representative warned the Taliban leadership "there is no going back to the past." He added: "It is wrong to say that the US leaves here (Afghanistan) and NATO remains."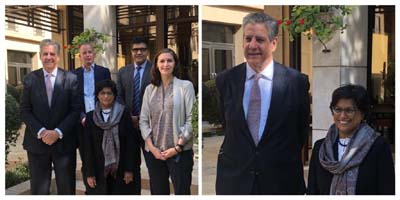 The United Nations Assistance Mission in Afghanistan (UNAMA), the Afghan Independent Human Rights Commission (AIHRC) and the US Embassy in Kabul also called on the groups to stop attacks on Lashkargah.
UNAMA said that the increase of violence "only heaps further hardship and misery on ordinary Afghans and undermines efforts for progress and building bridges between parties at the historic Afghanistan peace talks in Doha.
UNAMA also said that the violence "unleashed in Helmand this week has forced thousands of Afghanistan civilians to leave their homes, and initial reports suggest civilians have been killed and injured, including women and children."
Civilians have borne the brunt of Afghanistan's conflict, the message said, adding that "the number of civilians killed and injured –a key indicator of the intensity of violence– has so far been lower in 2020, but in recent weeks a worrying reversal seems to be emerging."
"Civilians are routinely killed or injured in armed clashes with high casualties resulting from indirect weapons: mortars, rockets, grenades. These civilians, including many children, must be protected from harm. The only way to do that is to stop the violence," it said.
UNAMA reiterated its call to halt violence and to focus on achieving a peaceful negotiated settlement to the Afghanistan conflict.
"I stand behind UNAMA's call to protect civilians in #Helmand, who should have safe passage to leave dangerous areas. It is indefensible that the Taliban continues to put civilians at risk through needless violence. Afghanistan needs peace now," tweeted Chargé d Affaires Ross Wilson.
Meanwhile, President Ashraf Ghani in Kabul said that the war in Helmand had displaced thousands of families. "Thousands of people have been displaced in Helmand, if we didn't have the sacrifices of (Afghan pilots and security forces), there could be millions of people displaced," said Ghani while participating in the prayer ceremony of Afghan pilots killed in a helicopter crash in Helmand.