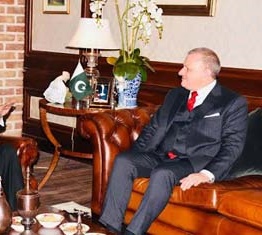 Italy gives utmost importance to relations with Pakistan: Ambassador Andreas Ferrarese
Newswire
Lahore: Italian Ambassador to Pakistan Andreas Ferrarese has said his country gave utmost importance to relations with Pakistan.
The envoy said several Italian companies were looking to Pakistan as a possible investment destination since Pakistan provided lower labour costs.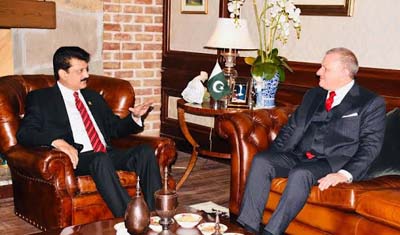 Ambassador Andreas Ferrarese urged Islamabad to join hands and work together in a bid to minimise losses and enhance productivity in the post-Covid-19 era.
In a meeting with All Pakistan Business Forum (APBF) President Syed Maaz Mahmood and Secretary-General Khurram Niaz Khan last week, the Italian ambassador said his country was making all-out efforts to boost economic ties.
The APBF and the Italian embassy reached an understanding to cooperate in key development areas like promotion of mutual trade links, facilitating closer understanding between business communities of Italy and Pakistan, promoting B2B meetings and visits of business delegates, increasing educational ties and working in collaboration for social development. Both the sides agreed to enhance mutual ties, especially in the areas of trade and economy.
Speaking on the occasion, Mahmood reiterated that the APBF would continue to put in its best efforts for providing the most favourable business environment in Pakistan, and would identify and engage resourceful organisations and vital entrepreneurs to create and capitalise on new opportunities for mutual development and growth.
Earlier in a television interview, Ambassador Andreas Ferrarese said Italy and Pakistan had always enjoyed friendly bilateral, economic, and defence relations though there remains room to forge stronger ties between the two countries.
He said that Pakistan's economy has been steadily improving and there are several investment opportunities here. In this regard, he stressed the need to increase the volume of trade between the two countries.
On Pakistan's ambitions to transform itself into a tourist destination, Ambassador Ferrarese said Italy had historically been a great tourist destination.
He said that Italy possesses one of the world's largest collection of historical sites such as those in Rome, Venice, and Florence, while there are thousands more which need to be discovered.
Ambassador Ferrarese added that Italy was willing to provide financial and technical support in the uplift of Pakistan's tourism sector. So much so that he said that his country wants to invest in the construction of hotels at tourist spots and the improvement of road infrastructure that could boost tourism.
He said Italy was also trying to bring its famous cinema to Pakistan as well. Of the connection that Italy enjoys with Pakistan, the ambassador said around 200,000 Pakistanis lived in Italy, playing their role in the country's development and stressed on improving people-to-people contact between the two countries.