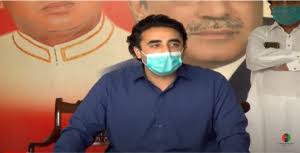 2.5 million people in Sindh homeless due to floods: Bilawal Bhutto
Islamabad: Pakistan People's Party (PPP) chairman Bilawal Bhutto Zardari has said that 2.5 million people in Sindh were homeless because of floods and similar is the case in Balochistan, Khyber Pakhtunkhwa and Gilgit but there is no voice for them.
The federal government led by the PPP in 2010 and 2011, he said, had helped the flood victims by issuing them "Watan cards".
"It is unfortunate that no one is ready from the federal government to help them. The rights of every strata of the society are being usurped. You are well aware of the pressure exerted by NAB (National Accountability Bureau)," he told a gathering in the federal capital.
He said that the PPP has rendered many sacrifices and the time has come to hold accountable the ones who have spilled our blood.
Bilawal Bhutto Zardari said anti-democracy elements had martyred his family members one by one. He said that "first my grandfather Shaheed Zulfikar Ali Bhutto was hanged by a dictator and then my uncle Shahnawaz Bhutto was killed by poisoning him. The other uncle Mir Murtaza Bhutto was murdered in Karachi. Shaheed Mohtarma Benazir Bhutto was murdered in the streets of Rawalpindi".
Bilawal said that he had experienced accountability since the age of two years with his parents. "Several false cases were initiated against Benazir Bhutto and every case was quashed but unfortunately, she was not alive to see herself exonerated," he maintained.
He said that "our narrative about civil liberties and human rights should be one. What kind of civil liberty is this that an interview of a politician could not be aired on television? This is not the way of a living nation. We have rendered sacrifices and now we want to hold accountable the ones who have spilled our blood."
Bilawal said that he and his party were not ready to compromise on the 18th amendment and the rights of the provinces.