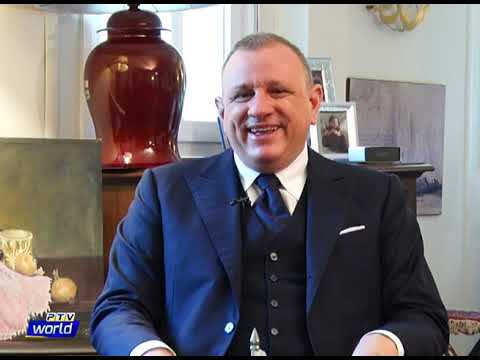 Representing Italy in Pakistan, a dream fulfilled
Ambassador Andreas Ferrarese
Islamabad: Ambassador of Italy to Pakistan Andreas Ferrarese has said that representing his country in Islamabad was a dream which came true.
In a message, he said, being an Ambassador in Islamabad was a position that satisfied his desire from the beginning of his diplomatic career 26 years ago
"In my first assignment to the Ministry of Foreign Affairs – I worked with great satisfaction to improve economic and commercial relations between Italy and Pakistan. Since then I have hoped to be one day Ambassador to Islamabad and my dream has come true," he said.
On 11th of June, the envoy said: "I assumed full functions as Ambassador of Italy in the Islamic Republic of Pakistan, and therefore I can fully carry out my activity, including a public and press presence. I wish to express my deep satisfaction for the full formalization of an important task for Italy as Pakistan is a country of great political, demographic and economic weight, and also for Italy a constructive and friendly partner in the United Nations."
The ambassador said it was a great honour for him and he will work with all energy to improve bilateral relationships in all sectors.
"I thank my Pakistani friends, from the government and the private sector, for having received me, since my arrival, with great courtesy and friendship. I will work with all possible effort to strengthen political relations between the two countries at all levels," he added.
Ambassador Andreas Ferrarese said it was a priority for him to finally build a proper headquarter for the Embassy, worthy of Italy and its traditions of cultural superpower.
"I also commit myself to improve business assistance services to strengthen economic relationships, which are satisfactory but still below the great potential we are developing. It will also be an important challenge for me to strengthen the teaching of the Italian language and our culture in Pakistan, and mutual knowledge towards our universities and our scientific institutions," he said,
Ambassador Ferrarese said more than 150,000 Pakistani citizens live in Italy, many of whom have also acquired Italian citizenship.
"This implies that at least 1 million Pakistanis have a relative who lives in Italy. The request to improve consular services to meet the needs of them and their families in Pakistan is exponentially increasing. I am absolutely committed to this, having 16 years of consular experience. At the same time, I will further strengthen surveillance over possible phenomena of corruption and illegal requests for money," the envoy added.
To the Italian community in Pakistan, Ambassador Ferrarese assured full availability and assistance "from myself and from all my collaborators. I am also committed to improving their assistance, services and cultural offerings in this country. You can count on us. I necessarily want to keep our engagement active in the field of humanitarian assistance and development cooperation, in a more modern and appropriate way in a country with great economic potential. I will also work to boost and keep alive our great traditions in archaeological research, and the traditional activities in support of our beautiful mountains."