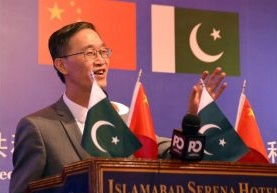 UNBREAKABLE FRIENDSHIP Elites and commoners in Pakistan love china
Newswire
Islamabad: Almost all the Pakistanis – including incumbent Prime Minister Imran Khan – and former Presidents or the premiers believe China can only benefit Pakistan.
Apart from the top politicians, the common man sees China as the trustworthy friend who will never leave Pakistan and the Pakistanis alone.
Nadeem Afzal Chan, a spokesperson of Prime Minister Imran Khan told this writer that there was no one in the cabinet who had a different point of view on China.
"All of us including the PM are on one page. The cabinet members do give opinions on various issues as part of the democratic right but I have never heard anyone questioning China. On the Iron Brother, we are all one. There is no difference. PM Imran Khan links Pakistan's future to China and all the ministers and aides believe he is 100 percent right," he remarked.
Chan said he had visited China many times and found China to be a sincere friend who wants Pakistan to progress and become a strong country.
"It is rare that a sovereign country helps another sovereign country so much. We are like real brothers and will remain so no matter who is in power (in Pakistan). President Xi Jinping is highly regarded in Pakistan. China can do no wrong to Pakistan. It can only give us benefits," he maintained.
Pakistan People's Party (PPP) Vice President Senator Sherry Rehman, who is also the chairperson of the Senate Committee on China Pak Economic Corridor (CPEC), said the PPP leadership starting from the late Zulfikar Ali Bhutto had laid the foundation of unbreakable Pakistan-China ties.
"We not only take China as a friend but as a brother. We have achieved so much with China's cooperation and our leadership's policy is to strengthen relations further with China," she said.
The lawmaker said PPP co-Chairman Asif Ali Zardari as the President of Pakistan had been instrumental in realizing the CPEC. "Asif Ali Zardari and Bilawal Bhutto Zardari (PPP chairman) always put China as the number one priority. PPP keeps China in the highest esteem. Our former Prime Minister Yousaf Raza Gilani is a staunch supporter of China," she said.
The PPP leader said, despite conspiracies by some elements, the whole Pakistani nation was united on the CPEC. "This (CPEC) is a consensus project with all parties and stakeholders behind it. This is one issue that all of Pakistan is united on," Senator Rehman said.
Moreover, she said, CPEC had created thousands of direct jobs in the country so far with potential to generate over a million employment opportunities by 2030.
Pakistan Muslim League (Nawaz) leader Abdul Qadir Baloch, a retired three-star General of the Pakistan army, said China was the only country which is accepted as a sincere friend by all the Pakistanis.
"The PML-N is and will remain a staunch supporter of Pakistan-China friendship. During our stints in the government, we have tried to do whatever we can to build the friendship as strong as possible. Nawaz Sharif (a three-time PM) and Mamnoon Hussain (former President) always looked upon China as a big brother," he sai
Baloch said CPEC was taking Pakistan on the path of development. "We should thank China for being such a glorious friend," he mentioned.
Since the establishment of diplomatic ties between the two countries, Pakistan and China have developed an all-weather friendship which is based on equality, brotherhood and overall cooperation.
In Pakistan, China is 'the most beloved of all nations,' a fact further proved by a recent Pew Survey of Pakistan's public opinion which showed that more than 84 percent of Pakistanis had a favourable view of China.
Former Chinese president Hu Jintao once described this relationship as "higher than the mountains and deeper than the seas". Recently, President of China Xi Jinping told Pakistanis that in China, Pakistan is known as "a sincere and reliable friend."
Obviously, Pakistan-China friendship is deeply felt in the hearts of the two peoples. Former Prime Minister Nawaz Sharif had matched the poetic parlance by describing this relationship as "higher than the Himalayas and deeper than the deepest sea in the world, and sweeter than honey."
The history of relations between Pakistan and China goes back to the period when merchants, pilgrims, scholars and diplomats travelled on camels or horsebacks through the Silk Route from one country to another.
Quaid-e-Azam University professor Dr Ashraf Khan said Pakistan and China were twin brothers who cannot be separated despite all the conspiracies by some countries.
"Pakistanis are united on the friendship with China. I have never come across a Pakistani who spoke against China. I have seen so many criticizing the incumbent Pakistani governments but on China there is not even a tiny difference," he observed.
Kifayat Ahmed, a local shopkeeper said China was Pakistan's closest friend and will always remain so. "Pakistan and China will live as friends until the doomsday. Long live Pakistan and China," he said in utter excitement.