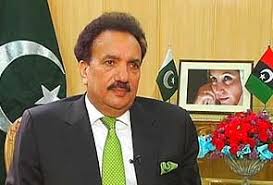 Overseas Pakistanis backbone of Pakistan's economy: Senator Rehman Malik
Islamabad: A delegation of the Pakistan Overseas Community (POC) comprising of Mian Tariq Javed Chairman POC, Fahad Inam Khan, Firdous Nisar, Beenish Shaukat and Abdullah Usman called on Chairman Senator A. Rehman Malik this week.
They discussed in detailed issues of Overseas Pakistanis. Senator Rehman Malik said that overseas Pakistanis "are our asset and they are playing a role of the backbone of our economy by their contribution through remittances and they shall be given their due rights rather discriminated." He said the Pakistan People's Party (PPP) had always promoted overseas Pakistanis and have raised voice for them.
Senator A. Rehman Malik said that overseas Pakistanis are victimized both at the government level and by the mafia. He said there should be special legislation to protect their due rights and also their properties.
He said that he as Chairman Senate Standing Committee on Interior has received many complaints from Overseas Pakistanis that their properties are being grabbed by land mafia in their absence.
The senior PPP leader said "overseas Pakistanis are most vulnerable to numerous frauds in Pakistan by the mafia and stringent measures are needed to protect their assets'. He assured: "I will provide all kind of support to overseas Pakistanis and will raise for their rights in Parliament House"
He stressed that Special courts are needed to handle the problems and cases of overseas Pakistani to deliver speedy justice as they cannot stay in Pakistan for long to pursue their cases.
He said that overseas Pakistanis were the most hardworking people who earn abroad and send their earning back to their homeland.
He maintained there was no doubt "Overseas Pakistanis are our great assets and are our ambassadors and have a lot of heartfelt love and sympathies with their homeland."
He demanded that Overseas Pakistanis should be allowed to have dual citizenship while contesting elections here and their patriotism shall never be doubted adding that they are more patriotic. He said that in Canada, the Prime Minister may be from Pakistan in the next 20 years the way they give rights to their citizens contrary to their origin. He said, "No patriotic Pakistani can betray this country and the patriotism of overseas Pakistanis must not be questioned".