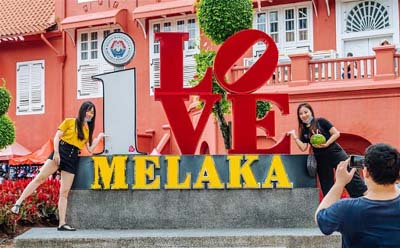 Malaysia's ancient entrepot slowly back to life as domestic tourism picks up
Newswire
Malacca: From a stall selling grilled seafood at the weekend night market of Jonker Street, a well-known tourist trap in Malaysia's historic city of Malacca state, Loh Kee Seong watches the passers-by intently as they browse through the various food options available.
Loh, who helps his nephew with the business, was upbeat about the return of tourists since the Malaysian government relaxed the restrictive measures against COVID-19 in June to allow most businesses, including tourism, to resume. "We are getting many local visitors for now," he told Xinhua. "Things will get better."
Jonker Street is at the heart of Malacca's historic towns and has traditional Chinese-style arcades with overhanging stands on both sides of the street. They are mixed with multi-cultural heritage originating from Europe, the Middle East and Asia which were brought into the town when Malacca served as a major trading hub in the region several hundred years ago.
Despite not being an entrepot anymore, Malacca still attracts tourists from around the world, as tourism is becoming a pillar of the local economy. The industry took a hard hit amid the pandemic, but as Malaysians can now travel within the country, the place is slowly coming back to life.
The Jonker Street night market reopened in late June. Hawkers and visitors still have to observe the standard operating procedures (SOP) against the outbreak including usual rules on face masks and temperature checks. Those aged below 13 are not allowed into the area. No tables or chairs are set up for eating but for takeaways only.
Undeterred, domestic tourists like Esther Ang Woon Ai from Kuala Lumpur and Iman Cullen Cornelius from the northern Terengganu state visited the area during a recent weekend, looking to break the monotony of a normal life.
Ang, 19, said she had decided to come down to enjoy the food and to visit local friends, noting that while the crowd was small, the attractions remained just as good and were more accessible.
"The crowd here is actually much lesser compared to the normal times, but I still feel it is a very nice place to visit for tourists," she said.
Tourism, Heritage and Culture Committee chairman of Malacca state Muhammad Jailani Khamis was quoted as saying by state news agency Bernama recently that the state's tourism had recovered with an influx of 8,000 tourists per week by August, particularly on weekends and public holidays.
Tourism is a major contributor to Malaysia's economy, making up 15.9 percent of Malaysia's GDP in 2019, up from 15.2 percent in 2018, according to the Department of Statistics Malaysia.
The contribution of domestic tourism spending towards overall tourism consumption increased to 50.9 percent in 2019, outpacing the inbound tourism expenditure by foreign tourist for the first time since 2005. The trend is good news for Malaysia's tourism industry, as foreign tourists are still not allowed to enter the country to prevent imported COVID-19 cases.
Tourism, Arts and Culture Minister Nancy Shukri said earlier this month that plans to revive tourism and cultural sectors through domestic tourism campaigns are beginning to show positive developments.
"In facing these challenges, my dedicated team in ministry and I will always look for the best initiatives and methods towards 'The Great Re-Set' to re-invigorate the tourism, arts and culture sectors, especially domestic tourism," she told media recently.
While the country's borders remained closed, it is important to find ways to survive the current difficulties while maintaining the interest of foreign tourists in Malaysia, said Mint Leong, deputy president of the Malaysian Inbound Tourism Association (MITA).
"While we prepare for borders to reopen, the industry is adopting a 'survival first, business later' approach through exploring new tourism products and packages for international tourists in the new normal," she said.
For Loh at the Jonker Street night market in Malacca, he was conscious that the recovery would take time. "I hope that the COVID-19 will go off and hope they (the government) will open foreign market, so people will come in," he said.