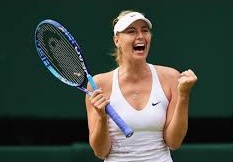 Maria Sharapova: What you put into your body is always very important
Former World No. 1 Maria Sharapova spoke about her diet and cooking skills in a recent interview with the Porsche.
The five-time Grand Slam singles champion Sharapova, who is a Porsche Brand Ambassador, says: "What you put into your body is always going to be extremely important. There are many lessons I have taken away from my career and a good, healthy diet is certainly one of them. I've always been someone who takes good care of their body. But it doesn't matter if you're a professional athlete or you work in an office, what you put into your body is always going to be extremely important".
The Russian, who retired from the sport in January this year, also gave her fans a glimpse into her daily routine. "I start my day really healthy. I drink a lot of water with lemon to being with – I've done that throughout my career – then I have a green smoothie with kale, lemon, spinach and sometimes a little apple or avocado.
Usually with some rye toast. Then I just see how I feel during the day. I'm certainly not as strict these days, not always thinking 'food for fuel' like when I was playing, but it still has an impact".
Sharapova has also been using the current time off to drive around the Pacific Coast highway and improve her own cooking skills. "We've been up the coast on the Pacific Coast Highway, which has been beautiful.
There's actually so much to gain from this time, seeing things from the car and being in your own little world with your family. For my birthday recently we drove to Malibu and ate takeaway lobster rolls on the beach.
Someone gave me an ice cream machine a few years ago that I thought we would never use. But with all this extra time on our hands I pulled that bad boy out and made my own ice cream for the first time. It was surprisingly good.
Any time I make something and get decent feedback I'm like 'Ooh thanks. I've got game!'. " Maria Sharapova has been ranked as world No. 1 in singles for a total of 21 weeks. She is one of ten women, and the only Russian, to hold the career Grand Slam.
She is also an Olympic medalist, having won a silver medal in women's singles at the 2012 Summer Olympics in London.