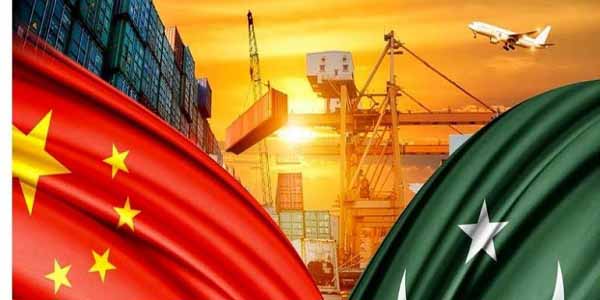 CPEC's SEZs, a lifetime opportunity for Pakistani companies, people
China Economic Net
Islamabad: China–Pakistan Economic Corridor (CPEC)'s Special Economic Zones (SEZs) are a lifetime opportunity for the Pakistani companies and the people as they will provide regular business and job openings.
The SEZs with new business models are likely to generate reasonable jobs, develop industrial and business infrastructures and establish domestic value chains connected regionally and extra-regionally with the help of Iron Brother China.
Top Pakistani decision-makers including Prime Minister Imran Khan are convinced the SEZs will provide much needed impetus to stimulate economic activities across the country, senior government officials told the Gwadar Pro.
Given the successful record of China in constructing and running several SEZs, Pakistan finds an opportunity to capitalize on the Chinese experiences and investment human resources and technology in establishing China-led industrial parks.
As part of the new phase of industrialization under the CPEC framework, Pakistan is expected to have a number of opportunities to capitalize on.
Though Pakistan has previously experimented with SEZs, its scale, outreach and impact on the country's economy and society remained very limited. But, the proposed SEZs under the CPEC offer new opportunities for mutual economic cooperation, investment, human resource development, sustained industrialization and, above all, the consolidation of CPEC.
Pakistan experienced slow growth rate ranging from 0.4% in 2008–2009 to 4.24% in 2014–2015. But, owing to certain strategic and economic developments that include the construction of CPEC, the country's economy reflected positive trends in all major sectors of the economy during 2014–2018 and afterwards.
The global donors and ratings institutions are pinning hope on the country's economic potential to rise as a fast-growing and promising regional economy. However, owing to Covid-19, the country's Gross Domestic Product (GDP) growth rate for 2020–2021 has been projected negatively.
The launch in 2015, of the landmark project of coordination and cooperation between China and Pakistan, namely the CPEC, emerged as an icon for fast-tracked industrial development and dissemination.
Thus, in the context of CPEC, Pakistan aims to establish financially vibrant, socially visible and potentially productive industries to initiate a new era of industrialization that includes high-end textiles, telecom, engineering, knowledge-based manufacturing, sea products and sophisticated storage facilities for fruits and vegetables, jointly or separately with Chinese companies to be based in the SEZs.
China has, in the last 40 years, emerged as the world's second largest economy. Importantly, it has lifted around 800 million people from abject poverty since 1979 as a result of its "reform and opening up" policy which underscored the importance of special industrial zones, particularly in the Shenzhen region, to realize industrial growth.
In Asia quite a number of developing countries are getting economic dividends from effective operationalization of SEZs. As far as Pakistan is concerned, in the pre-CPEC period – before 2013 – it had already experimented in export processing zones and, importantly, the country hosted certain number of SEZs at various locations.
Historically, almost every district of Pakistan had an SEZ with proper infrastructure and various incentives for local and international investors.
Punjab, the population-wise largest province, hosts around 20 SEZs, whereas Sindh, Balochistan and Khyber Pakhtunkhwa have 30, seven and 12 SEZs, respectively.
Certain such zones were successful in terms of established industry and generation of employment and capital but there were failed cases too. The failure of such industrial parks can be ascribed to their remoteness from the major urban and industrial areas.
Moreover, some major cities of Pakistan also host certain industrial clusters – small industrial units which are not part of an SEZ – because of their added strength in skilled workforce, availability of raw material, supporting institutions and strong historical linkages with the local and global supply chains.
Such clusters include sports and surgical clusters in Sialkot, textiles cluster in Faisalabad, fan cluster in Gujarat and engineering cluster in Gujranwala—all these cities are located at considerable distance in Punjab.
In addition, there are industrial parks – specialized industrial units which formally are not part of an SEZ – in Pakistan which include Rachna Industrial Park (Lahore), Marble City (Lahore) and Textile City (Port Qasim, Karachi).
The distance between Lahore and Karachi is around 1200 kilometres. Some of the newly established industrial estates consist of Value Addition City (Sheikhupura–Faisalabad Expressway), M-3 Industrial City (Faisalabad) and Quaid-e-Azam Apparel Park (M-2 Lahore).
China and Pakistan signed the Memorandum of Understanding (MoU) in 2013 that served as the cornerstone of the CPEC. The 2015 visit of Pakistan by the Chinese President Xi Jinping formalized CPEC in terms of allocation of $ 46 billion . By the end of 2017, the sum total of loans and investment under CPEC crossed $ 60 billion. And now the worth is more than $ 87 billion.
Significantly, the early harvest projects under CPEC have already been operationalized and scores of projects in port, energy, railways and roads are currently underway.
To consolidate CPEC and enhance bilateral economic cooperation, the Pakistani and the Chinese governments concluded, in the sixth Joint Cooperation Committee (JCC) held in December 2016, to establish the SEZs.
The total number of such SEZs varied from initially more than 100 to 46. However, later, the Pakistani authorities, in particular, the Ministry of Planning, Development and Reform and the Board of Investment proposed the construction of nine industrial zones in different parts of Pakistan.
The SEZs are considered the main pillars of CPEC as well as the economic growth of the two countries. To speed up the construction process of the proposed SEZs, initially four prioritized zones under CPEC were short-listed for bilateral industrial cooperation: Islamabad Capital Territory Model Industrial Zone (Islamabad), Allama Iqbal Industrial City (Punjab), Rashakai Economic Zone (Khyber Pakhtunkhwa) and Dhabeji (Sindh).
Recently, Pakistan Prime Minister Imran Khan—during the course of participation in China's Second Belt and Road Forum (BRF) of the Belt and Road Initiative (BRI)— signed various agreements with his Chinese counterparts.
One of the agreements was related to the construction of Rashakai Economic Zone as a topmost priority. This month, Prime Minister Imran Khan inaugurated the Rashakari Special Economic Zone, completed as a project of the CPEC.
The feasibility work on remaining SEZs is underway in accordance with the second phase of CPEC. The proposed SEZs offer multiple opportunities to both the Chinese and Pakistani government, firms and people.
Pakistan requires a developed industrial sector to lay a solid foundation for its economic recovery and revival. The Special Economic Zones are supposed to provide a wide range of opportunities to sustain enhanced industrialization.
Through industrial zone production and export hubs of high-quality manufactured goods, Pakistan is likely to be favourably positioned in the regional and international market.
While CPEC is expected to enhance investment and infrastructure in Pakistan and the western part of China, the construction and optimization of the proposed SEZs are likely to boost up industrial growth and economic activity not only within Pakistan but also between China and Pakistan.
The proposed Special Economic Zones are expected to work as a strong economic incentive for Pakistani authorities to introduce reforms in order to improve upon domestic business environment, governing behaviour, productive capacity, export base and enhance commercial attractiveness for further foreign investments.
Furthermore, industrialization with a new face is likely to create jobs for the country's large but underemployed population. The intended industrial activity under SEZs in general and CPEC in particular would expectedly generate employment for the growing educated workforce.
In addition, capacity-building efforts through vocational and technical training would also help local workforce to catch up in quality skills.
Secondly, the SEZs offer an opportunity to attract Pakistani diaspora with their skills and knowledge along with their accumulated capital for more profitable prospects in the country.
The SEZs can enable firms to agglomerate and get benefits of external economies and will thus provide opportunity to put domestic industries on a higher path of the learning curve.
Thirdly, trade generation opportunities are likely to induce both the states improve and strengthen bilateral trade regime.
Moreover, within SEZs, Pakistani companies either competing or complementing Chinese companies would learn latest business and trade techniques from their Chinese counterparts.
In addition, the global firms that are overwhelmingly organizing their production and trade in increasingly complex global value and supply chains—and are thus looking for the least costly locations. Special Economic Zones can provide a platform to reap the benefits of such opportunities that are literally ignored by the Pakistani authorities.
Fourthly, the agreed upon SEZs offer an opportunity to strengthen technology cooperation between Chinese and Pakistani companies. Moreover, the SEZs provide with opportunity to manage labour pooling, thus cutting down search cost and reducing unemployment of skilled labour.
Besides, while working within a SEZ, there could be a strong possibility of nourishing innovative ideas that can be disseminated across companies and corporations.
Lastly, the proposed SEZs, which would be operationalized in the second phase of CPEC (2020–2025), have the potential to establish linkages with the huge Chinese market and the Chinese SEZs. This could create a strong and sustainable business integration through trade and investment.