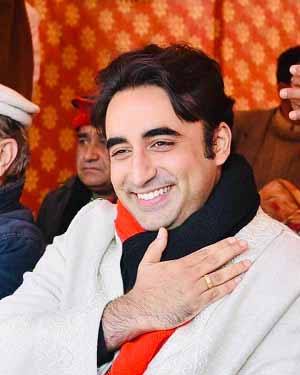 At 32 Bilawal Bhutto sets eyes on PM's slot
Newswire
Islamabad: Pakistan People's Party (PPP) chief Bilawal Bhutto Zardari turned 32 last week with his eyes set on the Prime Minister's slot.
Bilawal Bhutto Zardari was born in Karachi on September 21, 1988. He was hardly 19 when he inherited a role in a dynasty whose history is steeped in power and bloodshed.
He is already in lead role among the opposition parties and has shown glimpses of his charismatic grandfather Zulfikar Ali Bhutto and mother Benazir Bhutto. Also visible is the political wisdom which he inherited from his father, Asif Ali Zardari.
Three days after his mother's assassination in December 2007, Bilawal had taken over her position as the PPP chairperson.
Despite suddenly being catapulted to the top of the political echelon, he initially kept a low profile, focusing instead on finishing his history degree at Oxford University.
Bilawal has spent most of his life outside Pakistan, travelling with his mother – who went into self-imposed exile in 1999 – moving between London and Dubai, and then studying in Oxford. Since 2010 he has spent most of his time in Pakistan.
He is described as a keen sportsman who enjoys cricket, shooting and horse-riding. He also has a black belt in taekwondo.
In joining Oxford's Christ Church College, he followed in the footsteps of both his mother and his grandfather.
Bilawal made his formal entry into the hurly-burly of Pakistani politics at an event on December 2012 that marked the fifth death anniversary of his mother Benazir Bhutto.
Bilawal vowed to fight militancy and extremism to maintain democracy and peace in Pakistan, in his first major political speech.
Pakistanis, as well as Bhutto supporters and PPP voters, take Bilawal as a new star, expecting him to struggle for a direct connection with them and venture into populist activities.
The party leader and supporters also expect that he would have his own chosen team as his mother did by freeing herself from party 'uncles.' In his speeches, Bilawal is bold, progressive and pro-people.