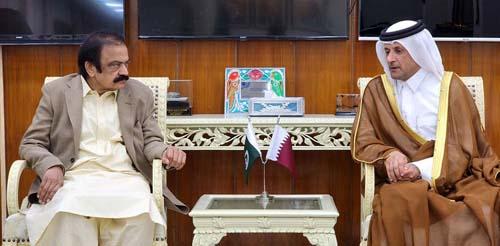 Pakistan, Qatar vow to enhance bilateral trade, tourism
Celina Ali
Islamabad: Pakistan and Qatar this week vowed to further promote their bilateral trade and tourism.
The understanding was reached during a meeting between Ambassadors of Qatar Sheikh Saud bin Abdul Rahman Al Thani with Minister for Interior Rana Sanaullah in Islamabad.
The two personalities also discussed issues of mutual interest including bilateral relations between the countries.
Noting that 250, 000 Pakistanis are currently working in Qatar, the meeting decided to increase Pakistani manpower to 650,000. The two sides also agreed to continue full cooperation to deal with internal security challenges.
Speaking on the occasion, the Interior Minister said Qatari citizens will be provided visa facility on arrival in Pakistan. He said there is an eternal relationship of trust between the people of two countries.
Acknowledging that Qatar had always supported Pakistan, the Interior Minister expressed gratitude to Qatar for the financial assistance to the flood victims in Pakistan.