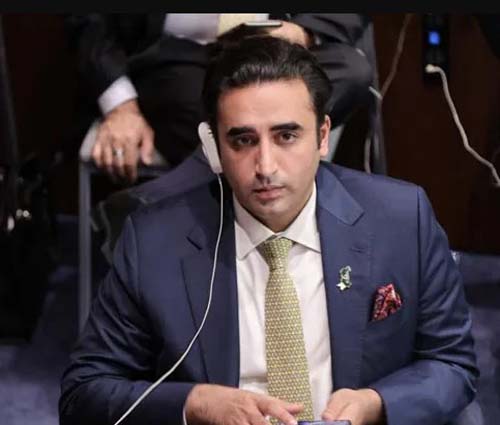 Bilawal Bhutto lambasts world powers for 'turning a blind eye' to Kashmir
Liaquat Ali
Muzaffarabad: Foreign Minister Bilawal Bhutto this week lambasted the international community for "turning a blind eye" to India's atrocities in Indian Illegally Occupied Jammu and Kashmir (IIOJK), saying it was "not wise to sacrifice timeless principles for short-term interests".
"I asked those who champion the rules-based international order and place a premium on protecting and promoting human rights. How can they turn a blind eye to this savagery?" the foreign minister said while addressing a special session of the Azad Jammu and Kashmir (AJK) Legislative Assembly.
FM Bilawal said it is indeed, not wise to sacrifice these timeless principles for short term interests. "One cannot wax lyrical about international law and the United Nations Security Council resolutions in Europe in the European context, and then turn a blind eye to the violation of the same international law in the Kashmiri context," he added.
The minister recalled that India's unilateral and illegal actions of August 5, 2019 opened a new chapter of oppression. "India's ultimate aim was to convert Kashmiris into a dispossessed and disempowered minority in their own land, the fresh delimitations, domicile certificates to millions of outsiders, and addition of millions of temporary residents to the voters list were part of a well thought-out strategy to change Kashmir's demography and its political landscape".
He made it clear that Pakistan outrightly rejected the unilateral and illegal steps. "How can the world be a silent bystander when a large country usurps the rights guaranteed by the Security Council, and instead use brute force to suppress those rights? Isn't it the same world that is upholding these principles elsewhere, while remaining completely oblivious to them in Kashmir?" he asked.
Bilawal mentioned that India was hosting the meeting of a Tourism Working Group in Srinagar, meetings of a consultative Forum on Youth Affairs, while a G20 had already been held in Jammu, Leh and Srinagar in the past few weeks.
"This is yet another display of India's arrogance on the world stage, Indian occupation of a territory that is recognized as disputed under international law," he added.
The minister said India was misusing its position as the chair of the G-20 – a forum created to address global financial and economic issues with utter disregard for the Security Council resolution, the UN Charter and its principle.
But India's facade of normalcy in Kashmir was met by the harsh reality that occupied Kashmir remained one of the most militarized zones on the planet, he added.
The foreign minister noted that holding a meeting of the Tourism Working Group of G-20 countries in Srinagar was an utter violation of the United Nations resolutions on Kashmir.
FM Bilawal Bhutto said the people of Kashmir had been denied of their basic right to self-determination for decades and now such a meeting in the world's most militarized zone could not prove that normalcy had returned in the region.
He said history could not be changed through such cheap acts as the Jammu and Kashmir was forcibly occupied by India and was recognized a disputed territory.
The people of Kashmir had been denied their inalienable right for decades, their lands had been grabbed, properties being confiscated and they were subjugated to torture and extra-judicial killings.
He said the Jammu and Kashmir issue was the unfinished agenda of the partition of sub-continent when the rights and aspirations of the people of Kashmir were trampled by machinations and intrigue. "The territory of Azad Jammu and Kashmir (AJK), where we congregate today was liberated at the cost of enormous sweat and blood," he recalled.
Bilawal said ironically, "today India deviously tries to convince the world that Jammu and Kashmir was an undisputed part of her territory. But history remembers that it was India that took the Jammu and Kashmir dispute to the Security Council as a dispute yet to be resolved.
"The disputed status of Jammu and Kashmir was internationally recognized, and it was decided that the final disposition of the state shall be made through a free and impartial plebiscite under the UN auspices."
The foreign minister asked the world that whether a country could be allowed to renege on its solemn commitments to the United Nations, break its own promises and blatantly violate international law just because it wanted to do so.
While quoting the phrase "Justice delayed is justice denied", he appealed to all men and women of consciousness across the world to urge the occupying forces of India to rescind its unilateral and illegal actions of August 5, 2019 and implement fully the relevant UN Security Council resolutions and allow the Kashmiri people to freely exercise their right to self-determination through a UN supervised plebiscite.
He also demanded to provide solemn assurances that it would not change the occupied territories' demographic composition and not allow non-Kashmiris to acquire property or residency in Jammu and Kashmir, to halt its human rights violations, to repeal its draconian emergency laws, withdraw its heavy military presence through Kashmiri cities, towns and villages and provide unhindered access to UN OHCHR, OIC and human rights organizations and international media to investigate report on the situation in occupied Kashmir.