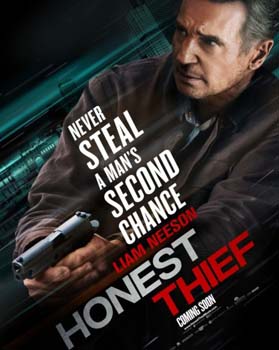 'Honest Thief' tops North American box office for 2nd weekend in a row
Los Angeles: Open Road Films' action thriller "Honest Thief" topped the weekend for the second week in a row in North America with 2.35 million U.S. dollars from 2,502 locations, according to studio figures collected by measurement firm Comscore.
It's the lowest-grossing chart-topping weekend gross since Alan J. Pakula's political thriller film "Rollover" which opened in 355 theaters on the weekend of Dec. 11, 1981, Forbes reported.
"Honest Thief" has grossed 7.5 million dollars to date after 10 days in North America.
Directed by Mark Williams and starring Liam Neeson in the title role, the film follows a former bank robber who turns himself into authorities to start a new life after falling in love with a woman, only to be double-crossed by two ruthless FBI agents who want to devour his fortune.
Comscore noted that only 49 percent of all North American theaters are currently open. Although movie theaters outside New York City were allowed to reopen in New York state at 25 percent capacity under state guidance starting Oct. 23, Los Angeles and some other major markets in the country remained closed due to the pandemic. There are worries of a resurgence of COVID-19 in the United States as the country hit a record high number of confirmed daily new cases on Friday.
Thanks to the effective containment of COVID-19, China has reportedly surpassed the United States for the first time to be the world's biggest film box office. Movie ticket sales in China for 2020 climbed to 1.988 billion dollars on Oct. 18, surpassing North America's total of 1.937 billion dollars, the Hollywood Reporter reported, citing data from Artisan Gateway.
The gap is expected to widen considerably by year's end, according to the Hollywood Reporter, noting that the results "represent a historic sea change: North America has been the global box office's center of gravity since the dawn of the motion picture business."
"The War with Grandpa," the 101 Studios' family comedy film, kept No. 2 place on the chart with 1.88 million dollars from 2,345 locations in its third weekend, pushing its North American total to 9.71 million dollars to date.
Directed by Tim Hill and based upon the novel of the same name by the late American children's book author Robert Kimmel Smith, the film stars two-time Academy Award winner Robert De Niro, among others. The plot follows a sixth-grader who works to get his grandfather to move out of his room after he moves in with his family.
Warner Bros.' sci-fi action film "Tenet" came in third with 1.3 million dollars from 1,801 locations in its ninth weekend for a North American total of 52.5 million dollars to date.
With a reported budget of more than 200 million dollars, the film, directed by Christopher Nolan and starring John David Washington, follows a secret agent as he manipulates the flow of time to prevent World War III.
"Tenet" took in another 4.6 million dollars in global box office this weekend from 61 markets in release for a worldwide cume of 341.4 million dollars.
A newcomer, 20th Century Studios' horror thriller film "The Empty Man" opened in fourth with 1.26 million dollars from 2,027 locations this weekend.
Directed by David Prior and based on Cullen Bunn and Vanesa R. Del Rey's graphic novel of same name, the film starring James Badge Dale follows an ex-cop investigating the mysterious disappearances of some local teens in a town.
A 1993 film from Disney re-released in North America for Halloween, "The Nightmare Before Christmas," continued its box office success, finishing fifth with 577,000 dollars from 1,614 locations this weekend. The animated musical fantasy film tells the story of Jack Skellington, the King of "Halloween Town" who stumbles through a portal to "Christmas Town" and becomes obsessed with celebrating the holiday. Enditem