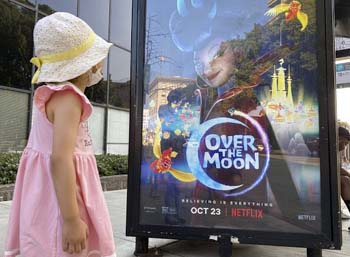 Roundup: Chinese-American co-production 'Over the Moon's' Netflix debut garners attention

Los Angeles: Chinese-American co-production "Over the Moon" has landed on Netflix, the world's leading streaming entertainment service.
The animated adventure drama film is a co-production between Netflix Animation and the Shanghai-based Pearl Studio, formerly known as Oriental DreamWorks. The film revolves around a 12-year-old girl, Fei Fei, who builds a rocket ship to travel to the moon hoping to meet Chang'e, the legendary Moon Goddess.
Partnered with DreamWorks Animation, Pearl Studio is the production house behind animated film "Abominable," one of the most successful Chinese-American co-productions of 2019, which took the top spot in the North American box office over its opening weekend and has grossed over 60 million U.S. dollars in North America for a global total of 190 million dollars.
Directed by Academy Award-winning filmmaker Glen Keane in his feature directorial debut after nearly 50 years in the industry, "Over the Moon" stars the voices of a strong Asian-American voice cast, including Cathy Ang, Phillipa Soo, Ken Jeong and John Cho.
Keane, 66, is a veteran Disney animator for feature films including "The Little Mermaid," "Beauty and the Beast" and "Aladdin." He won the Academy Award along with NBA legend Kobe Bryant for his animated short "Dear Basketball" in 2018.
Keane told Polygon, Vox Media's entertainment network, that he was drawn to the character at its core, Fei Fei, after Netflix tapped him for the film when it acquired the project as a co-production with Pearl Studio.
Keane said that he felt immense pressure to get everything right for the "sacred" story as the legend of Chang'e is important to Chinese culture and is the basis for the Mid-Autumn Festival. Keane sought input from his Shanghai-based animation team in order to make the story more culturally authentic, right down to the little details, Polygon reported.
A. Felicia Wade, a film critic for DiscussingFilm.net, called the film "a space age fairytale for today."
"The film does have sweet universal lessons – cherishing those around you and letting new ones in, which is extremely poignant for the time we're in. It's hard to shake off the feeling of familiarity, but hopefully its new lens encourages more diverse animation being made in the future," commented Wade, adding that the film is still really charming overall and is sure to make an impact for viewers to come.
"'Over the Moon' celebrates Chinese culture as no mainstream American toon – not even 'Mulan' – has before," commented Peter Debruge, a senior film critic for Variety, but he also pointed out that the film "does so in a way that's so formulaically Western that it feels like the creative team took 'Coco' and dressed it up in another country's colors, customs and costumes."
Another film critic, CNN's Brian Lowry, wrote that Keane "clearly learned the tricks of the trade during his time at Disney, with the movie appearing pretty desperate to conjure that sort of magic."
"With Disney invading Netflix's streaming turf, turnabout is fair play, as 'Over the Moon' overtly tries to emulate Disney animation without occupying its orbit," he noted.
"'Over the Moon' may hail from beyond the Disney umbrella, but it nonetheless bears a recognizable corporate imprint, from its abundance of cute animal sidekicks and so-so original songs to its strategic exploration of grief as both premise and theme," commented film critic Justin Chang for the Los Angeles Times. "Over the Moon" is also slated to hit theaters in China this weekend.