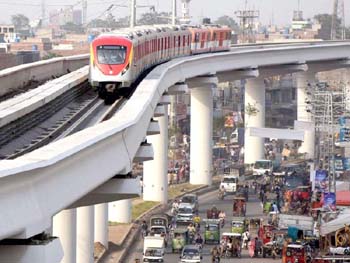 China provided $1.6 billion soft loan for Lahore's Orange Line
Islamabad: China had provided a soft loan for $1.6 billion for the construction costs of the Lahore's Orange Line which formally became functional last week.
Punjab Provincial Transport Minister Jehanzeb Khan Khichi told Covert that the first day of the Orange Line was a complete success as people swarmed the stations to get a ride.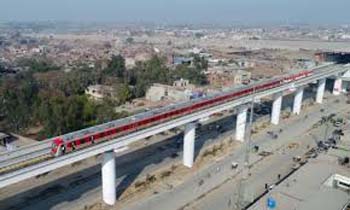 "The project is complete thanks to China. They provided us a soft loan of $ 1.6 billion. The government and the people are excited. Today (Monday) there was a great rush. Everyone wanted to get in," he said.
Last Sunday, Pakistan inaugurated its first metro service when Lahore's Orange Line began operating after a five-year construction period under the CPEC.
Funded and built by Chinese entities, the east-west line runs for 27 kilometres and has 26 stations, 24 of which are elevated. Its 27 driverless trains are expected to transport some 250,000 people a day in air-conditioned wagons at an operating speed of up to 80 kilometres per hour. The final cost of the line was $ 2.2 billion, compared with an original estimate of $ 1.6 billion.
There was a delay in work when heritage organisations brought legal action, arguing that the line would damage 26 historic sites. An injunction halting work was granted by the Lahore High Court in 2016, which was lifted by Pakistan's Supreme Court 22 months later.
Part of the multi-billion-dollar CPEC, the line was built by China State Railway Group and China North Industries Corporation. It is being jointly operated by Guangzhou Metro Group, Norinco International, also of China, and Korea's Daewoo Pakistan Express Bus Service.
Usman Buzdar, Chief Minister for the Punjab, said at the opening ceremony that the provincial government was grateful to China for its "unprecedented support". Building the Orange Line created over 7,000 jobs for locals and 2,000 people will be employed in its operation.
Another two lines are planned for the metro: a 24-km Blue Line running north to south and a 32-km Purple Line to the Allama Iqbal International Airport, the largest in Pakistan.
Pakistan has laid out a red-carpet for Chinese investment in the country, which according to some estimates is worth $ 62 billion as of 2020. Several CPEC infrastructure projects are being executed in the South Asian country, including a transport network, energy projects and special economic zones.
Pakistan's sole subway line has begun commercial services in its second-biggest city Lahore, home to more than 11 million people.
Provincial Transport Minister Jehanzeb Khan Khichi said the Orange Line Metro Train was the first transport project under CPEC which is also a conspicuous symbol of Pakistan-China friendship and a gift for the people of Lahore.
The minister stated that this was the first electric public transport project which would provide employment to more than 4,000 people and around 2.5 lakh commuters would daily travel on it.
He said that Rs 5.62 billion annual subsidies would be given to this project comprising of 26 stations and track spanning over 27.12km. He maintained this project would lessen transport load on Multan Road and would provide a world-class public transport facility to the citizens.
"It is a symbol of Pakistan-China friendship and the government is committed to providing resources for providing better facilities of transport, education and health," he added.