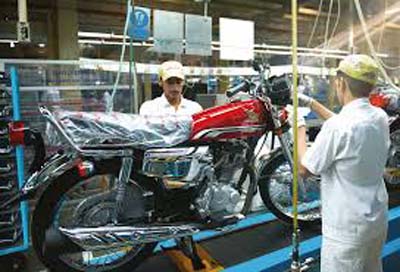 Motorbike production and sales in Pakistan up by 70%
Khurshid Ahmed
Karachi: Motorcycles production and sales in Pakistan increased by over 70 percent in the first quarter of the current fiscal year, the highest ever quarterly output recorded in Pakistan, manufacturers and analysts said.
"Motorcycle production and sales during the July-September 2020 period of the current financial year FY21 were recorded at 8,05,408 units, which is the highest ever production recorded in any quarter in any fiscal year, " Muhammad Sabir Shaikh, the chairman of the Association of Pakistan Motorcycle Assemblers (APMA), said.
There are around 38 motorcycles manufacturers operating in Pakistan, including those that make Japanese and Chinese brand motorcycles.
In July 2020, production stood at 291,722 units, in August 2020 at 243,109 units, while 270,577 units were produced in September 2020, with Atlas Honda taking the lead with 287,130 units. Only around 472,111 units were produced in the same period last year, APMA and Pakistan Automotive Manufacturers Association (PAMA) data shows.
Manufacturers say the increased demand for bikes has largely come from rural and agricultural areas of the country.
"The main demand was generated from the rural areas of the country," APMA's Shaikh said. "Only 30 percent demand comes from the urban centers."
Compared to motorcycles, car sales in the first quarter increased only by 2.7 percent to 31,868 units but production declined by 24 percent to 27,574 units, PAMA data shows.
Since March 17 this year, the central bank has slashed the policy rate from 13.25 percent to seven percent to support growth amid the coronavirus pandemic. Analysts say cheap auto finance triggered by the interest rate cut is the leading factor in the recovery of auto sales.
"The interest rate cuts have substantially reduced financing rates in Pakistan, which is one of the key drivers of motorcycle and car sales," said Syed Fawad Basir, an auto analyst at Topline Securities. "Economic recovery, mainly large-scale manufacturing sector's growth, new entrants and availability of varieties, has also played a contributing role."