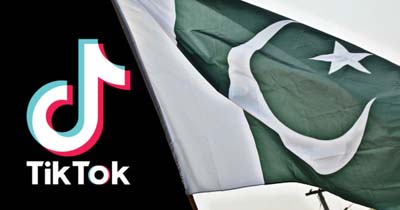 Pakistan, TikTok resolve to continue engagement to arrive at 'mutually acceptable mechanism'
Islamabad: Representatives of TikTok have held a virtual meeting with officials at the Pakistan Telecommunications Authority and resolved to arrive at a "mutually acceptable mechanism" to provide a safe internet experience for Pakistani users and pave the way for the app to be unbanned in Pakistan.
Pakistan's telecom regulator blocked TikTok last week for what it called the platform's failure to filter out "immoral and indecent" content, another blow to the social media app that has come under increasing scrutiny as its popularity has surged across the globe.
"TikTok, in an effort to have meaningful engagement with PTA, and in compliance with instructions of the Authority with respect to moderating the unlawful online content in accordance with laws of Pakistan, held a detailed virtual meeting with Chairman PTA," PTA said in a statement on Monday. "During the meeting, TikTok senior representative highlighted the efforts that have been taken besides sharing future strategy to improve content moderation in line with local laws."
"Both sides resolved to continue their engagement to arrive at a mutually acceptable mechanism to continue to provide safe internet experience to the users in Pakistan," the statement said.
Last month, PTA said it had asked TikTok to immediately block content deemed "vulgar" and "indecent" from being viewed in Pakistan.
In August, Pakistan blocked five dating apps, namely Tinder, Tagged, Skout, Grinder and SayHi. On July 21, PTA said it had banned the Singaporean live-streaming app Bigo over "immoral, obscene and vulgar content" and issued a last warning to Tiktok for "similar" reasons. Bigo was subsequently unbanned. The hugely popular online game PUBG also remained banned in Pakistan through July.
In September, PTA said it had approached TikTok to immediately block "objectionable content" available on its platform in Pakistan and prevent the use of its platform "for disseminating illegal content."
"PTA has done so keeping in view the negative effects of indecent/immoral/nude content available on the platform," PTA said in statement. "In addition, the platform has been directed to put in place an effective content monitoring and moderation mechanism to proactively remove Indecent/immoral content failing which necessary action will be taken under the law."
In August, the PTA chairman attended an online meeting with senior management of TikTok and shared "growing concerns" in Pakistan over content available on the platform.
"Chairman PTA asked the platform to put in place stronger content monitoring and moderation mechanism so that the unlawful material is not accessible/viewed within Pakistan," an August 28 statement by PTA said.
In its latest transparency report, TikTok has said Pakistan was one of five markets in the world with the largest volume of videos removed due to breach of community guidelines and terms of service.
"In the recent release of its Transparency Report, TikTok shared the global volume of videos removed for violating its Community Guidelines or Terms of Service, which showed that Pakistan is one of the five markets with the largest volume of removed videos," the app had said in a statement. "This demonstrates TikTok's commitment to remove any potentially harmful or inappropriate content reported in Pakistan."