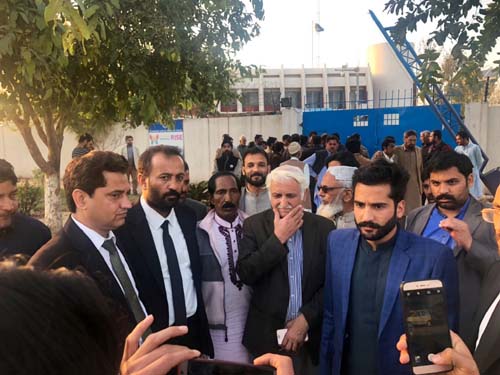 PPP supports constitutional supremacy: Farhatullah Babar
Abdullah Jan
Islamabad: Pakistan People's Party Parliamentarians Secretary General Farhatullah Babar said this week that the PPP supported constitutional supremacy.
Babar said no other constitutional democracy in the world was threatened by mili­tant non-state actors as in Pakistan.
"If we lose the war it is the end of con­stitutional democracy. If while fighting we continue to yield to the temptation to give more and more powers to law enforcing agencies it means erosion of constitutionalism and rule of law," he said in his address to the international constitutional convention in the Parliament House.
He added: "Not long ago this parliament agreed to the setting up of military courts, albeit with a sun­set clause. The situation becomes far more complex and difficult for a par­liament amid perceptions that some elements in the state may actually be supporting some non-state actors." Populism, he said, posed a new threat to constitutionalism in Pakistan. Popu­list leaders use democratic and con­stitutional means to come into power and become popular. Then they use the power to undermine the constitu­tion and democratic institutions as has happened in the country. He said that deep rooted polarization was yet an­other threat to constitutional democ­racy in Pakistan. When the sacred state institutions, media houses, political parties, trade unions and civil society are deeply divided, alarm bells must ring for constitutional democracy. Nev­er before state institutions in Islam­abad or Rawalpindi seem so polarized and divided as today, he said.
Babar said that concentration of wealth and economic power in the hands of few individuals and one in­stitution is bound to create social and political and threaten constitutional order. "Today the largest industrial/commercial conglomerate, the largest real estate enterprise and the largest contractor are in the hands of organi­zations that belong to one state institu­tion. A massive transfer of economic resources, reportedly of 17 billion dollars, a year is taking place from the under privileged to the elite creating islands of riches in a sea of poverty which is unsustainable in a constitu­tional democracy," he said.
Technology, he said, also posed new threats. While the spread of disinformation and fake news by technology is often talked about there is no discussion on the fake news by the state institutions pro­moting false narratives that militate against constitutional democracy.