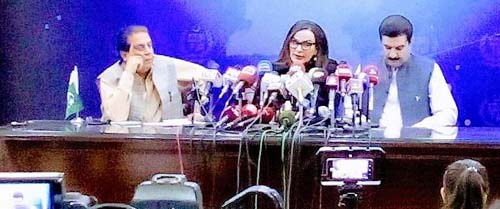 No one above Pakistan: Sherry Rehman
Liaquat Ali
Islamabad: Federal Minister for Climate Change and Vice President Pakistan People's Party Parliamentarians (PPPP) Senator Sherry Rehman said this week that Imran Khan's message is that he is above all laws, the state and public interest.
"Tehrik-e-Insaf's message to the nation is that if I am not there, there is no Pakistan. Our message through the most traumatic victimisation has been Pakistan's interests come above our own. The difference is stark," she said while addressing a news conference here along with Special Assistant to PM and secretary Information PPP Faisal Karim Kundi.
Sherry Rehman said Imran Khan neither believes in politics nor in the democratic process. "His tactics boil down to a premeditated bonfire of violence and chaos, while he prioritises his own interests over the state, government, and people of Pakistan," she said.
The minister said that Imran Khan was once again targeting state institutions, with his latest target being the current army chief, as he seems desperate to cut a bargain, but this time no one is going to adopt him except his current connections in the courts.
"We condemn these accusations especially when the military has made it clear that they will not intervene in politics, yet Khan persists in trying to coerce them into doing so, solely for his own personal gain," she said.
Sherry Rehman said these actions are not characteristic of a political or democratic leader, as evidenced by Khan's history of seeking power and advocating for a fascist system, where he is the sole decision-maker. "He (Imran Khan) has even attempted to dismantle the federal system by attempting to demolish the 18th Amendment," she said.
She said that Imran Khan was involved in an open and shut corruption case amounting to Rs60 billion and despite the overwhelming evidence, the courts granted him unprecedented blanket relief in nine cases.
"At the same time, his arrogance remained indebted as he refused to condemn the events of violence by his party even when the Chief Justice of Pakistan solicitously urged him to condemn mob violence against state and private institutions," she said.
Sherry Rehman said despite claiming ignorance of the matter, he later said that if they try to arrest me, the country will burn again. "His followers went out to amplify this message: burn Pakistan if a hair on my head is touched," she said.
The minister said she was not alone in saying that Niazi is seeking an NRO after any excesses because he believes that he is above the law and state, able to spread chaos and anarchy throughout the country with impunity when he is brought to book.
Sherry Rehman highlighted the injustices in the justice system by pointing out the stark contrast between the treatment of Imran Khan and other political leaders. "While Imran Khan was brought to court in a luxury car, our leaders were picked up from hospitals in the middle of the night and held for years."
Special Assistant to PM and Secretary Information PPP Faisal Karim Kundi said the recent audio leaks clearly reveal the whole planning behind the violent acts.
He said the democratic forces and the whole nation stand behind their armed forces who have given immense sacrifices in the war on terrorism.
He said PPP fully endorses the PDM's decision to hold a peaceful gathering outside the Supreme Court of Pakistan and the PPP will participate in it.