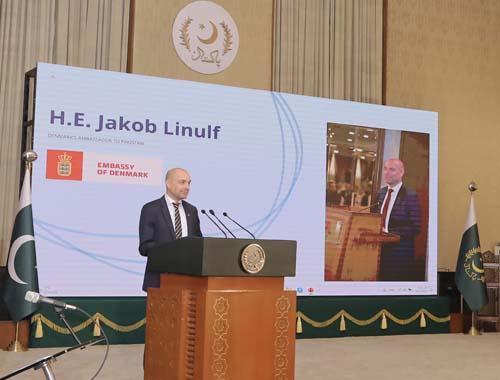 Pakistan and Denmark can cooperate much more on cultural sector: Ambassador Jakob Linulf
Staff Writer
Lahore: Ambassador of Denmark to Pakistan Jakob Linulf said this week that Pakistan and Denmark can cooperate much more on the cultural sector.
"In LHR (Lahore). Pakistani kids & families were thrilled, shifting from silence in anticipation of what would happen next & to great laughter & cheering. Very proud that this exchange of culture & arts b/w Denmark and Pakistan made possible," he tweeted after Theater Lamp, a Danish puppet theatre, performed for youngsters at Rafi Peer Theatre Cultural Centre.
For these performances, the theatre had brought the production, "The Mole and the House that Came and Left". After around four years, any overseas puppetry performance was held from the Rafi Peer Theater Workshop platform in Lahore.
It was a nonverbal play about seeing and feeling the universe, especially realities that are diametrically opposed to your own. The mole lives safely in its underground burrow underneath the ground until one morning when it awakens to see a house on top of its molehill.
Theater Lampe, specialises in creating hilarious, lyrical, and topical performances for the youngest audience through an efficient blend of acting, animation, live music, and visual arts.
Theater Lamp stands for thought-provoking modern Danish drama in collaboration with some of Denmark's top playwrights and directors, as addition to reinterpretations of traditional fairy tales. The theatre is suitable for both youngsters and adults.
The theatre, which opened in 1991, puts on approximately 100 performances per year in Denmark and abroad. The Performing Arts Committee of the Danish Arts Council supports the theatre.