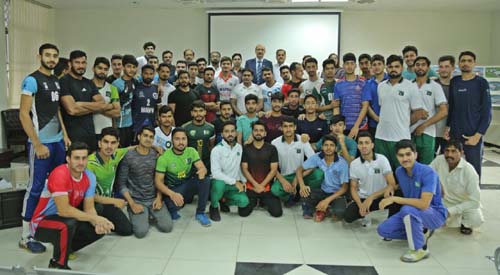 Anti-doping awareness seminar conducted by PCB
Director General Pakistan Sports Board, Col. Muhammad Asif Zaman (Retd) addressing to the players in Anti-Doping Awareness Seminar conducted by PSB at Jinnah Library Hall, Pakistan Sports Complex Islamabad.
IT'S the third case in just over three years of widespread doping in a single sporting discipline in Pakistan. If this one doesn't spark an investigation into why doping positives have started springing up so frequently in the country, or doesn't bring some clarity to the role that sports institutions must play to end this menace, such incidents will keep tarnishing Pakistan's image on international sporting platforms. After all, the doping case that emerged last week is one which potentially brings to an end the career of Talha Talib, one of Pakistan's brightest hopes for ending the country's long Olympic medal drought. Nine months ago at the Tokyo Olympics, Talha finished fifth in the 67 kg class, narrowly missing out on ending Pakistan's quest for a medal at the Games since 1992, but raising expectations of a better performance at the 2024 Olympics in Paris. There seemed to be genuine hope, which has now been dashed. Talha is one of six weightlifters who have been caught either using banned substances or evading dope tests by the International Testing Agency. It has left the Pakistan Weightlifting Federation facing a four-year ban from the International Weightlifting Federation.
Earlier this month, it emerged that seven kabaddi players had used performance-enhancing drugs after dope tests were conducted during the National Championships at the start of the year. The Pakistan Olympic Association then formed a committee to probe the matter. Last year, the POA returned two gold and nine bronze medals won by Pakistani sprinters at the 2019 South Asian Games after three of them returned positive dope tests for anabolic steroids. It saw the POA suspend the Athletics Federation of Pakistan. It remains to be seen what action is taken against the PWF, whose chief is a close ally of the POA president. More importantly, it calls for action to streamline the roles of the POA, Pakistan Sports Board and Anti-Doping Pakistan, down to the national federations in order to ensure that doping doesn't rear its ugly head again.