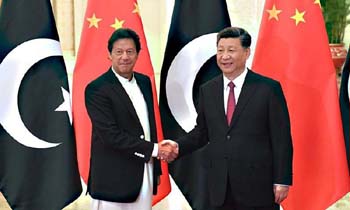 Pakistan excited at 70 years of diplomatic ties with Iron Brother China
Gwadar Pro
Islamabad: Pakistan is excited as it is about to complete 70 years of diplomatic relations with Iron Brother China, the country's top diplomat said.
All-weather-friends Pakistan and China had established diplomatic relations on May 21, 1951.
Foreign Minister Shah Mehmood Qureshi told Gwadar Pro that the 70th year was yet another milestone in the history of a permanent fri4ndship and trust. "We will celebrate this event in style. We are very excited about this. China has always been on our side during this long and sweet journey," he maintained.
Pakistan-China relationship has built on the strength of its successive achievements, and has become formidable with each passing day and year. The leadership of both countries is committed to taking this relationship forward.
Pakistan and China enjoy close and friendly relations since the establishment of diplomatic relations in May 1951. Pakistan was one of the first countries that recognized the People's Republic of China.
Over the years, the relationship has blossomed into an "All-Weather Strategic Cooperative Partnership". Pakistan considers China as one of its closest friend and partner and China considers Pakistan as its "Iron Brother."
The bilateral relationship between the two neighbouring countries is characterized by feelings of mutual trust, respect and goodwill towards each other. There is a regular exchange of visits at the highest level between the two countries. The strategic cooperation between Pakistan and China has grown over the past several decades.
Economically, China is Pakistan's largest trading partner and a major investor, especially in infrastructure and energy sector. During 2018, bilateral trade between the two countries reached $ 18 billion.
With the official launch of China Pakistan Economic Corridor (CPEC), the bilateral relationship has been elevated to a higher level. CPEC is a flagship project of Chinese President Xi Jinping's initiative of "One Road and One Belt."
It aims at enhancing connectivity and improving infrastructure between Pakistan and China. Several projects are being implemented under CPEC, for enhancement of infrastructure and generation of energy. People-to-people contacts are an important aspect of the bilateral relationship. The year of 2015 was celebrated as the Year of Friendly Exchanges between Pakistan and China and several high profile events were organized including seminars, exchange of visits and cultural events to highlight people-to-people interactions.
China is currently Pakistan's largest single trading partner; while Pakistan is China's second largest trading partner in South Asia. Major imports from China include machinery and mechanical appliances, metals, chemical products, mineral ores, plastic scrap and transport equipment. Main exports include cotton yarn, cotton fabric, rice, leather and fish products.
FM Qureshi said Chinese President Xi Jinping's visit at his convenience was being eagerly awaited in Pakistan. "Both sides understand that his visit will be of an extraordinary nature. For that there is a need to understand the flux in regional and international situation and also to prepare before his trip," he said.
The FM said Pakistan-China ties were higher than Himalayas and were set to touch new peaks as the two friends complete 70 years of diplomatic ties.
Former Pakistan ambassador to China Naghmana Alamgir Hashmi said the 70th anniversary of the establishment of bilateral diplomatic ties next year and this will be a "special moment."
"The two brothers (Pakistan and China) will celebrate it as per the people's expectations. This is a huge event. My stay in China as the ambassador and in other capacities had been memorable," she told Gwadar Pro.