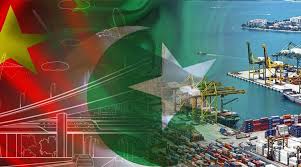 CPEC to serve 50% global population A win-win for the whole region, Pakistan key beneficiary
S. Ali
Islamabad: China-Pakistan Economic Corridor (CPEC) will serve nearly half of the global populations when it is completed in a few years, officials said. Pakistani government officials affiliated with CPEC told Covert that the CPEC was a win-win situation for the whole region and Pakistan was a key beneficiary.
"When completed, CPEC will serve at least three billions people. This is around half of the global population. Pakistan is among the key beneficiaries but not the only beneficiary," said a highly placed official.
He said many people in the western world think the CPEC will only benefit either Pakistan or China. "They are not studying CPEC. The fact is it (CPEC) is a win-win for all. All the regional countries will benefit. It is a game changer," he added.
Another official said that Pakistan will become a connecting bridge to three engines of growth – China, Central Asia, and South Asia – when it is completed.
"Pakistan has already starting reaping the benefits (from CPEC). Being the connecting point, we will have an advantage. We will have more jobs for example for our Pakistanis," he maintained.
He said Iron Brother China had been generous in passing benefits to Pakistan right from the start. "China is acting like a big brother. They (China) are giving us advantage wherever possible. We are thankful to China for the generosity," he added.
Analysts believe CPEC will create a huge number of jobs and elevate Pakistan to high growth rates, which will ensure Pakistan's stability and serve as a deterrent to extremism and violence.
The economic dividends of this project, by connecting all the economies of the region, are going to be so high that once this project is in full-operation the whole world might ultimately join the club.
The multi-billion-dollar CPEC aims to improve Pakistani infrastructure and deepen the economic and political ties between China and Pakistan.
CPEC will further cement ties between Pakistan and China, which share a history of congenial strategic relations, over a versatile canvass of mutual interest extending over six decades. In the past 65 years, both countries have developed strong bilateral trade and economic collaboration.
China is Pakistan's largest trading partner in imports and exports and CPEC is going to further enhance the lucrative economic cooperation between the two countries.
It aims to create an economic corridor between Gwadar Port to China's north-western region of Xinjiang through the 2,700-kilometre long highway from Kashgar to Gwadar, railway links for freight trains, oil and gas pipelines and an optical fiber link. The project will create nearly 700,000 new jobs and add up to 2.5 percent to Pakistan's annual growth rate.
CPEC has undeniable economic and strategic importance for Pakistan and China. It has been called a game-changer because it will link China with markets in Central Asia and South Asia.
Presently China is some 13000 kilometres from the Arabian Gulf with a shipping time of about 45 days. CPEC will shrink this distance to merely 2500 kilometres – an 80 percent reduction. The shipping time will be reduced to 10 days – a 78 percent reduction.