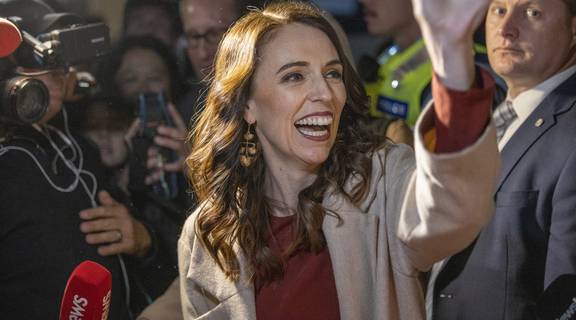 Jacinda Ardern stays in power
Auckland: New Zealand Prime Minister Jacinda Ardern has declared victory in New Zealand's general election, securing a second leadership term.
The Prime Minister said New Zealand had shown the Labour Party its greatest support in at least 50 years and it was clear they would lead the government for the next three years.
"We will not take your support for granted. And I can promise you we will be a party that governs for every New Zealander," she said.
With the majority of party votes counted, Ms Arden's Labour Party has taken close to 50 per cent of the vote compared to around 27 per cent for the National Party.
The results so far suggest Labour may have secured enough votes to lead a majority government without the support of a coalition partner.
This has not happened since proportional representation was introduced in the 90s.
New Zealand switched to a mixed member proportional system in 1996, in which a party or coalition needs 61 of Parliament's 120 seats, usually about 48 per cent of the vote, to form a government.
This means minor parties often play an influential role in determining which major party governs.
Addressing a rapturous crowd in Auckland, Ms Ardern promised to govern for every New Zealander and said the country would come back stronger after the COVID-19 crisis, admitting there was much work to do.
She also said she realised this election had not been a normal one.
"And it's not an ordinary time. It's been full of uncertainty and anxiety and we set out to be an antidote to that.
New Zealand Prime Minister Jacinda Ardern gestures as she thanks her electorate workers at an event in Auckland.
"As a nation, we needed a plan for recovery and so that is what we created.
"We needed an ongoing health response to the pandemic to keep people safe so that is what we've done.
"And we needed a team focused absolutely and entirely on New Zealand, and Labour absolutely is.
"This is our opportunity to build an economy that works for everyone. To keep creating decent jobs. To upskill and train our people.
"To protect our environment and address our climate challenges. To take on poverty and inequality. To turn all of the uncertainty and hard times into cause for hope and optimism. "It's an opportunity we have already grabbed."
Ms Ardern added: "Our plan is already in action and already working. But after this result, we have the mandate to accelerate our response and our recovery. "And tomorrow, we start."
Opposition leader Judith Collins had earlier conceded defeat against Ms Arden.
She said she had phoned the Prime Minister to offer her congratulations on what she said was an outstanding result and thanked her party's staff and volunteers for all their hard work.