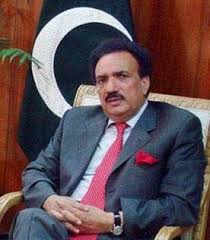 Asif Ali Zardari shouldn't be victimised: Senator A Rehman Malik
Newswire
Islamabad: Senior Pakistan People's Party (PPP) leader Senator A Rehman Malik is very much concerned about the health of PPP co-Chairman as the former President is appearing in courts to face the references against him.
Senator Malik, the Chairman Senate Standing Committee on Interior, has demanded online hearing facility to Asif Ali Zardari and sought his exemption from court appearance owing to rise in COVID-19 cases and his ailing health.
He expressed his deep concern over repeated summons to Asif Ali Zardari in various courts despite his illness and the peak in Coronavirus cases in the country.
In a statement, the former Interior Minister said that in the days of COVID-19 rise and severe illness, summoning Asif Ali Zardari to the courts is very dangerous and worrisome. He said that he was deeply concerned about bringing Asif Ali Zardari to courts in pandemic situation.
He said that there should be accountability rather political victimisation in the name of accountability.
He stressed that if the facility of zoom and other sources for online hearings of the cases could be provided to other people then why not to Asif Ali Zardari who is former President of this country and had been the Supreme Leader of Pakistan Armed Forces.
The veteran lawmaker said "every court in the world considers illness and facilitate those who are ill adding Asif Ali Zardari's illness can be assessed by looking at him".
Senator Malik said that Asif Ali Zardari's health had been badly affected due to continuous imprisonment. "Who shall be held responsible and accountable for imprisoning Asif Ali Zardari without any crime for 12 years and that for unproven and false charges and in the cases in which he was later acquitted honourably" he questioned.
Senator Rehman Malik said that in the past, even Ijaz Mansoor was given the facility of online hearing in a false and fabricated case like Memogate. He urged that former Asif Ali Zardari should be provided facility of online hearing in courts.
He said that in bravery and compliance with every order of the court, Asif Ali Zardari is second to none as he has been appearing in the court whenever he is summoned. He said that ill-treatment and discrimination against Asif Ali Zardari should be stopped.
He said that all those ware belonging to PTI are even not appearing in the courts despite being wanted to the courts and declared absconders. He said that there should be no disparity in justice and discrimination in accountability.