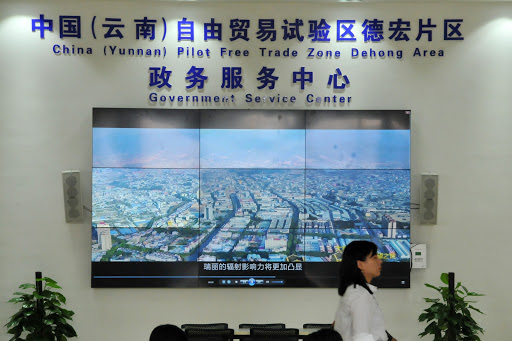 FTZs propel quality development in border areas
China Economic Net
Ruili: Wang Guangfu came for border trade in the city of Ruili in southwest China 20 years ago, but his lineup of products was quite limited: he mainly sold made-in-China laundry items to Myanmar.
These days, however, he sells more than 10,000 types of products to Myanmar, in trade that has gone completely online.
"We sell domestic, high-quality products to people in Myanmar through online platforms, and some of the items are even resold to India," said Wang.
The 44-year-old currently runs a cross-border e-commerce company in Ruili, under Dehong Dai and Jingpo Autonomous Prefecture, Yunnan Province. Last year, his company became one of the first groups of enterprises to settle in the Dehong part of the pilot free trade zone (FTZ) in Yunnan.
China launched two pilot FTZs last year in Yunnan Province and in the southern Guangxi Zhuang Autonomous Region, which are both border areas. The pilot FTZ in Yunnan covers parts of Kunming, the provincial capital, Honghe Hani and Yi Autonomous Prefecture that borders Vietnam, and Dehong Dai and Jingpo Autonomous Prefecture, which borders Myanmar.
According to official plans, Dehong will focus on cross-border e-commerce, capacity cooperation and financing to become an opening-up pioneer in border areas, bringing big opportunities to businesspeople like Wang.
"We have developed a wholesale platform, which serves retailers in Myanmar," Wang said. "The platform covers more than 8,000 retail shops."
The company has also developed a shopping software called eMyan, short for Express Myanmar, for regular customers. Since it went into operation in Myanmar in 2017, the software has generated 2.17 million orders, with a total trade volume of 580 million yuan (about 85 million U.S. dollars).
"Suitcases, bags, digital products and small home appliances are particularly popular with customers in Myanmar," Wang said. "Customers can pay through Alipay, WeChat and our own paying system Shwe Pay. After the payment, they can receive the products in about three days."
Wang said that with the introduction of 5G and the global development of e-commerce, cross-border e-businesses have become a very important trade link between China and Myanmar.
Improving infrastructure in Dehong has also laid a solid foundation for cross-border e-commerce between the two countries, said Wei Gang, head of Dehong.
"Mobile Internet has developed rapidly in Myanmar, bringing major opportunities to the country," Wei said. "The digital economy has become a new engine driving exchanges in business and trade, and communication in culture and information."
The pilot FTZ in neighboring Guangxi also threw up opportunities and lured businesses.
The number of newly-registered enterprises in Guangxi's FTZ has exceeded 10,560 over the last year, the FTZ said in late August.
Among the newly-registered enterprises, 85 are foreign-funded with investment of more than 140 million U.S. dollars.
Guangxi's pilot FTZ focuses on modern financial services, smart logistics, the digital economy, emerging manufacturing industries, port logistics, international trade, components of new energy vehicles and cross-border tourism.
The Guangxi FTZ has taken several measures to facilitate border crossing and lower logistics costs.
In the regional capital Nanning, which forms part of the pilot FTZ, a "hatching base" develops livestreaming talent for a cross-border e-commerce company. Overseas students promote clothes and digital products to customers in Southeast Asia in livestreaming rooms.
"We have the advantage of multilingual talent in Nanning, and we use this advantage to promote our products in the Southeast Asian market," said Ding Guoxun, who works for the company.
Official figures show the number of Nanning's cross-border e-commerce export orders from January to July crossed 15 million, with total commodity value exceeding 700 million yuan.