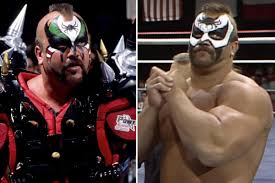 WWE legend Road Warrior Animal Joe Laurinaitis dead at 60
Brad Crawford
Wrestling superstar Joe Laurinaitis, better known as Road Warrior Animal, has died at age 60, according to the WWE. The WWE Hall of Famer was part of 'The Road Warriors', who were known as The Legion of Doom. Laurinaitis helped win a pair of World Tag Team Titles and was later inducted into the Hall of Fame in 2011.
Authorities told TMZ Sports that Laurinaitis passed at Tan-Tar-A Resort in Osage Beach, Mo.
"RIP Animal, love you my brother," Hulk Hogan said in a statement last Wednesday. "I know you and Hawk have a lot of unfinished business to take care of! God speed and blessings to your beautiful family, one love4Life."
Laurinaitis' son, James Laurinaitis, starred at linebacker for Ohio State University and later became a second-round pick by the St. Louis Rams in the 2009 NFL Draft. Joe had a football player's frame as well at 6-foot-2 and over 300 pounds with spiked shoulder-pads and face paint as his signatures.
Laurinaitis was part of a fan favorite tag team with Road Warrior Hawk, who passed away from a heart attack in 2003.
The Road Warriors were Hall of Fame wrestlers and tag-team champions across the world. The term "Road Warrior pop" is still used today in professional wrestling to describe reactions similar to the explosive chairs the duo received when they entered the ring. The Road Warriors initially built their fame in the territory system in the 1980s, including Japan, Minnesota's AWA and Jim Crockett Promotions in the Carolinas.
The Road Warriors went national in the 1990s with runs in both major promotions, the WCW and WWF, where they were two-time champions. Animal won a third tag-team championship in WWE with a different partner, and entered the WWE Hall of Fame in 2011 alongside Hawk, Shawn Michaels, Paul Ellering, Hacksaw Jim Duggan, Bob Armstrong, Abdullah the Butcher and Sunny.