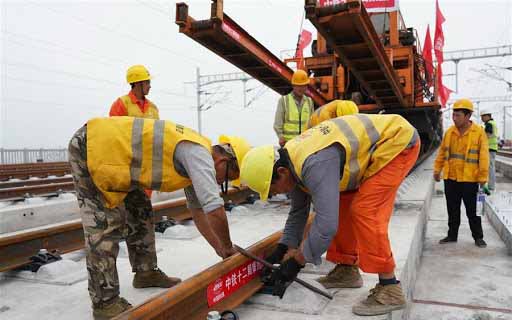 Track-laying of Beijing-Xiong'an intercity railway completed
Beijing: The track-laying of the Beijing-Xiong'an intercity railway, a key project for the coordinated development of the Beijing-Tianjin-Hebei region, was completed on Monday.
The last steel track of 500 meters long was laid at 10:30 a.m. on Monday in the Xiong'an New Area, north China's Hebei Province, marking the completion of the track-laying work for the 92.03-km new section of the line.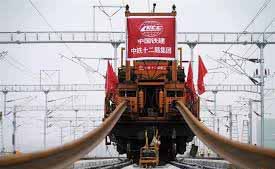 It marks an important step in the construction of the intercity railroad linking Xiong'an New Area and urban areas of the Chinese capital, including the Beijing Daxing International Airport.
The section of the railway from the Liying railway station in Daxing District to the Daxing airport was put into operation in September 2019, with a designed speed of 250 km per hour. The trains run on the existing Beijing-Kowloon Railway between Beijing West Railway Station and Liying Station.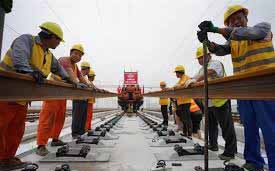 With a designed speed of 350 km per hour, the stretch from the Daxing airport to Xiong'an is expected to open at the end of this year. Travel time from urban areas of Beijing to the Xiong'an New Area will be cut to about one hour.
Gao Zengzeng, a manager with the China Railway Design Corporation, said positioning technology, based on the BeiDou satellites and the geographic information system, has been applied to guide the track-laying work to make the railway safer and more comfortable.
The China Railway Track System III (CRTS III), a type of slab ballastless track structure developed by China, was applied, which helps enable the smooth running of high-speed trains, said Gao.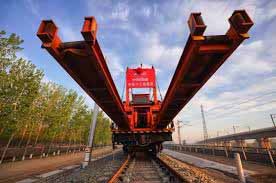 "Although the track structure was made of concrete, it is very smooth," said Zhao Qi, deputy general manager of the China Railway 19th Bureau Group Co., Ltd.
Zhao said a specially-designed chip has been inserted into every section of the structure for quality tracing.
China announced plans to establish the Xiong'an New Area on April 1, 2017, to relieve Beijing of functions non-essential to its role as China's capital.