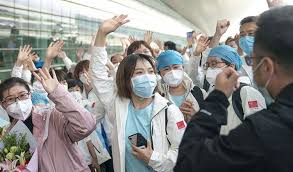 Never Underestimate Awakening Of Chinese People
By Wang Wen – Global Times
I live in Wangjing, a quite internationalized area in Beijing. Many Fortune 500 companies are headquartered there, and 10 percent of the around 600,000 residents are expats. Every weekend, I take walks in Wangjing's many parks to exercise and watch the changes in the city.
There have been no new confirmed cases of COVID-19 for a month in many Chinese cities. Wangjing, the internationalized area, is supposed to ease the epidemic control measures. But Wangjing's residents, including many expats, are cautious. They continue to wear masks and guard against second wave of infections.
This is not only happening in Wangjing. More than 2,800 counties nationwide and 1.4 billion Chinese are doing this too. As long as the government does not officially announce lifting the ban, people will always exercise discipline. Even if their residential areas have never reported an infection case, they will continue to make their own sacrifices for epidemic prevention and control.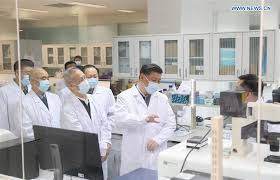 This stands in comparison with the US where an average of 20,000 daily cases have emerged for two consecutive months, the public in many states cannot bear stay-at-home order. Certain people even go to the street to protest control measures. Some even refuse to wear masks and flock to the beach. Some cities are even starting to prepare large-scale sporting events.
Medical statistics show that the infection rate in a society where people are disciplined to wear masks is 50 times lower than in places where half of the people do not wear masks. Analysts tend to compare the governance abilities of both the Chinese and US governments, but ignore the differences of cultures between the two societies.
This is a nationwide devotion. From the central government to grass-root communities, public servants work overtime and check quarantine work. Tens of thousands of medical workers battle against the virus. Every ordinary Chinese people put life above all values and exhibit social maturity to practice self-discipline.
This national maturity is key to China's phased success in fighting the epidemic. During the initial stage of the outbreak in January, Chinese society was somehow chaotic, but the situation was soon much better. The Chinese people who have experienced the 2003 SARS outbreak and the 2008 Wenchuan earthquake perform much better than the past and than people in Europe and the US.
Obviously, the COVID-19 fight is changing Chinese people's social and political values. It is like the Enlightenment, and Chinese people are experiencing a new spiritual awakening that is surpassing Western neoliberalism. When China opened up more than 40 years ago, individualism and liberalism flooded into the country. The emancipation of minds and protection of rights attracted Chinese people. We have to admit that these new thoughts, which originated from the process of Western modernization hundreds of years ago, have contributed to the success of China's reform and opening-up.
But wise Chinese people have perfectly combined their domestic cultural traditions with foreign ideologies. They have balanced this delicate relationship between freedom and restriction, market and government, reform and stability, capital and welfare, and individualism and collectivism. Every time when our country faces difficulties, those cultural characteristics that benefit China's development will be highlighted.
After the 2008 financial crisis, Chinese people fully reflected on Western countries' economic, financial and political model under neoliberalism. They confidently found China's own advantages. The Washington Consensus went bankrupt in China, and the Chinese approach was often quoted by the world.
In terms of national governance, Chinese people have found problems in the economic and social policies introduced from the West. For example, although the marketization of real estate makes some people richer, it hides lots of social risks; the popularization of private cars, while bringing convenience, is the crux of the energy crisis, environmental degradation and urban diseases. On the contrary, some governance experiences rooted in China have shined, such as targeted poverty alleviation, the habit of household savings, the household contract responsibility system in the early 1980s, and the diplomatic concept of building a community with a shared future for humanity.
But it is a pity that a lot of US media and politicians still regard these Chinese experiences as a rebellion, revolution or even evil. This is undoubtedly ideological discrimination.
Fortunately, a group of international scholars, including Martin Jacques, Kishore Mahbubani, Daniel A. Bell and John Ross, have started to restudy China. Hopefully there will be more and more such foreign scholars. Those certain US media and politicians that underestimate the awakening of Chinese people will eventually pay for their own mistakes.
The author is professor and executive dean of Chongyang Institute for Financial Studies at Renmin University of China, and executive director of China-US People-to-People Exchange Research Center. His latest book is Great Power's Long March Road.wangwen2013@ruc.edu.cn