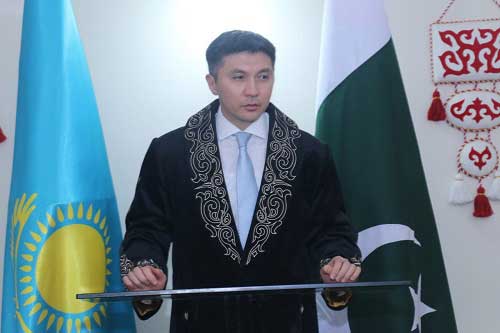 Kazakh envoy calls for engaging youth to boost bilateral ties
Celina Ali
Islamabad: Ambassador of Kazakhstan to Pakistan Yerzhan Kistafin this week appreciated the role of youth in advancing bilateral relationships between the two countries.
While speaking at the prize and certificate distribution ceremony of an essay competition titled "Knowing Kazakhstan" he said the engagement of youth in meaningful conversations might help Pakistan and Kazakhstan to reach phenomenal heights of cooperation.
The competition was recently organised by the Embassy of Kazakhstan in Pakistan and the Centre for Central Asia and Eurasian Studies, Institute of Peace and Diplomatic Studies, against the backdrop of the 30th-anniversary celebrations of relations between the two countries.
According to a statement, it was aimed to promote a deeper understanding and stronger bilateral cooperation between the people, especially the young students. Ambassador Yerzhan Kistafin shared his insights about Pakistan-Kazakhstan relations and the latest updates and developments during the ceremony.
He also spoke about the importance of engaging the youth in meaningful conversations and inviting them to share their latest ideas. The winner of the competition was Zulqarnain Khan, a student of Bahira University Islamabad, who received an air ticket to Kazakhstan.
Umm e Salma from the University of Sargodha, who secured the second position, received a smartphone, while Taj Mir Khan from the University of Engineering and Technology Peshawar, who came in third place, received a smart tablet.
Certificates were also distributed among the participants of the essay competition.