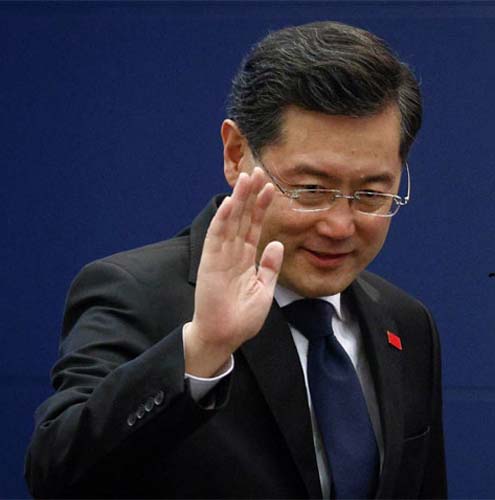 FM Qin Gang visits FSA building gifted by Chinese Embassy to Pakistan
Celina Ali
Islamabad: The Chinese State Councilor and Foreign Minister Qin Gang this week visited the Foreign Service Academy (FSA) in Islamabad which was gifted to Pakistan by the Chinese Embassy.
The Minister of State for Foreign Affairs Hina Rabbani Khar received the dignitary.
On the occasion, the Chinese Foreign Minister Qin Gang also unveiled a plaque that marked the gift of Foreign Service Academy. The building previously hosted the Chinese Embassy in Islamabad.
The visiting FM interacted with young diplomats, and shared experiences of, and expectations from the Pakistan-China All-Weather Strategic Cooperative Partnership.
The Chinese FM said China advocates mutual respect, equal treatment, and win-win cooperation among countries.
Qin Gang pointed out that China will not impose its own system and culture on others, or bully weak and small countries.
"China advocates that countries should address global challenges together and stressed that Chinese modernization means the growth of the forces of peace and justice in the world," he maintained.
The Chinese FM stressed that the young Chinese and Pakistani diplomats should do "what is in line with the trend of the times, do what is in line with the aspirations of all peoples, and oppose stoking divisions, inciting confrontation, and engaging in a new Cold War."
He further said: "China-Pakistan community with shared future is not a diplomatic rhetoric. We urge the two sides to accelerate the construction of the China-Pakistan Economic Corridor and strengthen coordination and cooperation in international affairs amid growing challenges worldwide."
He called on young diplomats from China and Pakistan to carry forward the bilateral ironclad friendship and jointly promote world peace and development.
Stressing for China and Pakistan to set an exemplar of state-to-state relations, Qin urged young diplomats from both countries to telling the story of bilateral friendship and spread the common voice of China and Pakistan.
Qin Gang reiterated that China advocates that all countries adhere to independence and follow a development path that is consistent with their own national conditions.
In his remarks, Hina Rabbani Khar said that Pakistan takes pride in having produced internationally recognized diplomats who have defended our national interests and contributed positively to Pakistan-China relationship. "I am sure that you too shall follow their path," the Minister of State remarked.