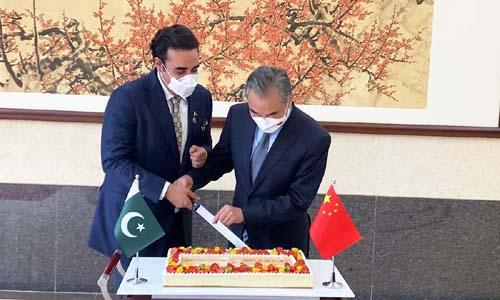 China stands with Pakistan amid challenges
Newswire
Beijing: China has assured Pakistan that it fully supports Islamabad's "legitimate aspirations, legitimate rights, and interests."
Chinese Foreign Minister Wang Yi conveyed this to his Pakistani counterpart Bilawal Bhutto Zardari during a bilateral meeting in Beijing this week.
"China's development is a growing force for world peace and a stronger factor for global stability. In this process, China-Pakistan relations will gain new impetus and raise to a new level," Wang said, according to a statement issued by China's Foreign Ministry.
"We will continue to speak up on behalf of Pakistan and firmly support its legitimate aspirations, legitimate rights and interests," the top Chinese diplomat said, thanking Pakistan for its "long-term firm support on issues concerning China's core interests."
China's reiteration of support comes at a time when Pakistan is grappling with internal political instability and depleting foreign reserves, as well as reestablishing relations with the US.
Bilawal was in Beijing on official business with Prime Minister Shehbaz Sharif, where they met with President Xi Jinping.
During the meeting, Xi assured Sharif that Beijing would continue to support the South Asian country's economic development in the long run.
To cement their economic relations, the central banks of China and Pakistan have also signed a memorandum of cooperation (MoC) on establishing yuan clearing arrangements in Islamabad.
It will allow businesses from the two sides to conduct cross-border transactions in yuan.
China and Pakistan, the "iron brother" allies, have seen bilateral relations strengthening over decades, with annual trade rising over $27 billion, while the two countries have also strengthened defense relations. Their cooperation at multilateral forums such as the UN has become more consistent.
Sharif's visit to Beijing, the first by any foreign head of government since Xi was proclaimed for the historic third time as secretary general of the Communist Party of China at its 20th National Congress last month, "fully reflects the particularity of China-Pakistan relations and Pakistan's important position in China's overall foreign affairs," said Wang.
"The time-tested China-Pakistan friendship is a valuable strategic asset of the two countries, and building a China-Pakistan community with a shared future is a strategic choice made by the two countries," the Chinese top diplomat said.
Since 2014, China has invested around $28 billion in various energy and infrastructure projects in the South Asian country under the China-Pakistan Economic Corridor (CPEC), allowing the world's second-largest economy to reach the warm waters of the Arabian Sea via Gwadar Port in southwestern Balochistan province.
It also drew hundreds of Chinese workers and institutions to establish bases in Pakistan, which has seen few terrorist attacks inside the South Asian nation.
Wang hoped that Beijing and Islamabad "will raise their security cooperation to a new level and provide a more comprehensive and reliable security environment for Chinese personnel, projects, and institutions in Pakistan," according to the Chinese Foreign Ministry.
"Friendship with China is the cornerstone of Pakistan's foreign policy, and all political parties in Pakistan have a high degree of consensus on this," Bilawal said, according to the Chinese statement.
"Pakistan is committed to continuously injecting new impetus into Pakistan-China relations and pushing bilateral relations to new heights. Pakistan firmly adheres to the one-China policy and firmly supports China on all issues concerning China's core interests," he added.