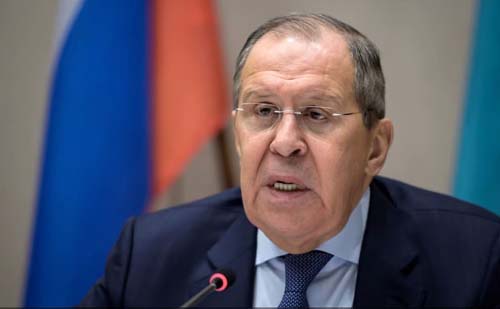 Russia will help Ukrainians 'get rid of regime', says Lavrov
Cairo: Sergey Lavrov, Russia's foreign minister, has said Moscow's ultimate goal in Ukraine is to topple the government of Ukrainian President Volodymyr Zelenskyy, an apparent pivot from the Kremlin's earlier stance.
Lavrov made the comments in Egypt at the beginning of a tour of Africa, where the top diplomat has sought to raise support while downplaying Russia's role in blocking grain exports from Ukraine's Black Sea ports.
He told envoys at an Arab League summit in Cairo this week that Moscow was determined to help Ukrainians "liberate themselves from the burden of this absolutely unacceptable regime."
He also said Kyiv and "its Western allies" were spreading propaganda intended to ensure that Ukraine "becomes the eternal enemy of Russia."
"Russian and Ukrainian people would continue to live together, we will certainly help Ukrainian people to get rid of the regime, which is absolutely anti-people and anti-historical," he said.