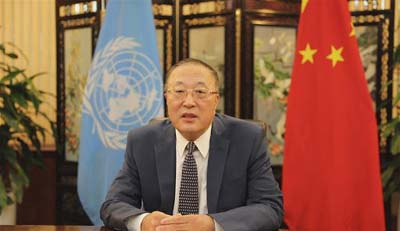 Countering terror in Xinjiang to promote peace and development
Li Bijian
Located in the northwest of China, Xinjiang is a vast region rich in natural resources. It has a very important strategic location as it connects China with Central Asia. Home to several ethnic groups, the region has been deeply affected by ethnic separatism, religious extremism, and violent terrorism, called "the three forces".
These forces are a cause of thousands of terrorist attacks carried out in Xinjiang from 1990 to the end of 2016, resulting in huge losses of lives and property. While this violence seriously jeopardised the stability and security of the country, it particularly hindered Xinjiang's economic development and social progress.
The Chinese government knows well that while countering terrorism and extremism to ensure stability and development in Xinjiang, the need to protect basic human rights – like the right to life, health and progress – cannot be ignored. Drawing lessons from the international community's counterterrorism experience and keeping local realities in view, China carried out the fight against terrorism and extremism by "focusing on counter measures with one hand and striving for prevention with the other". It not only cracked down hard on terrorists in line with the law, but also paid attention on how best to deal with the root causes of terrorism. Thus, a solid foundation has been laid for realisation of long-term social and economic stability in Xinjiang by focusing on a raft of people-centric measures.
The government eliminated conditions that threaten to breed terrorism. It provided jobs, strengthened health facilities and enhanced education opportunities, including those related to vocational training. This helped the government contain the frequent violence and achieve important victory in the fight against terrorism and extremism, with a result that there have been no terrorist acts in Xinjiang for more than four years. Public security situation has improved significantly. People belonging to all ethnic groups in Xinjiang live and work with peace and prosperity.
The Chinese government has always adhered to the spirit of the rule of law and combated terrorism in accordance with the law of the land. The fight against terrorism and extremism in Xinjiang conforms to requirements of the law of the land as well as the
UN's principles of safeguarding basic human rights.
Xinjiang's efforts have made a positive contribution to the global fight against terrorism and been widely acknowledged by the international community. Since the end of 2018, some 80 foreign delegations comprising more than 1,200 people from over 100 countries have visited Xinjiang. These foreign delegations expressed appreciation of the counterterrorism measures carried out by the Chinese government in Xinjiang, especially those related to vocational education and training. These measures and their outcomes constitute successful examples for the international community to carry on with the fight against terrorism and extremism.
Ridding Xinjiang of terrorism and extremism is all about safeguarding China's sovereignty and territorial integrity. It is about the rule of law and protection of basic human rights of the majority. It is a contest between national unity and division; peace and violence; good and bad; and vices and virtues. With continuous economic and social development in Xinjiang, the root causes of terrorism and religious extremism have been efficiently addressed, and a safe and stable environment has helped the once terror-plagued region develop even faster and better. Xinjiang has become a better place to live and work in peace.
The writer is China's Consul General based in Karachi