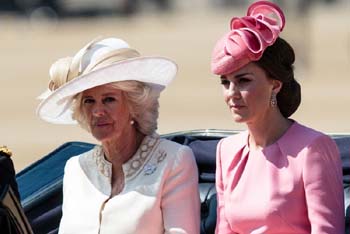 One thing Kate Middleton and Camilla Parker Bowles have in common
Nakeisha Campbell
London: It looks like Camilla Parker Bowles has something interesting in common with Kate Middleton. Well, aside from being in line to be Queen Consort, that is.
If you've been obsessively following royal news, then you may have noticed that the Duke and Duchess of Cambridge joined their kids, Prince George, 7, Princess Charlotte, 5, and Prince Louis, 2, to bake poppy cakes for people in the Armed Forces community. A snapshot of the Pinterest-worthy treats was also shared by the royal couple on Instagram, proving that Middleton has some impressive baking skills.
However, the 38-year-old isn't the only royal who has remarkable talent in the kitchen. Just a few weeks ago, while volunteering as a server at the Royal Voluntary Service Lunch Club, Camilla was spotted expertly piping cream on top of red trifle desserts. Although the duchess has previously admitted to sticking with meals that are quick and easy for her children, it looks like the same can't be said about her top-tier baking (honestly though, look at those desserts).
Camilla, who is president of the Royal Voluntary Service, revealed her baking skills at the club after getting an invite to visit her pen pal, Doris Winfield, whom she wrote during the pandemic. According to Yahoo!, Winfield said, "She's just a lovely, lovely lady. She has taken time out to speak and write to me without anyone knowing about it. Her letters cheered me up no end." Good to know that kindness and culinary skills run in the royal family!