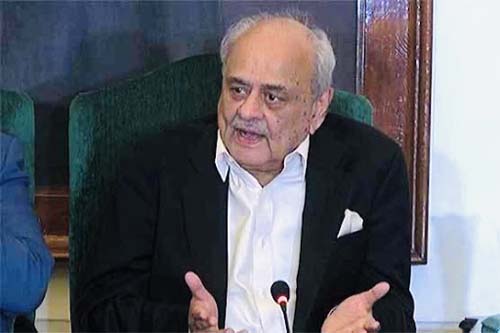 Anti-CPEC conspiracies to be defeated: Interior Minister
Gwadar Pro
Islamabad: Conspiracies against the China-Pakistan Economic Corridor (CPEC) will be defeated, and anti-CPEC elements will not be tolerated said the Pakistani Interior Minister Brigadiar Ijaz Shah (retd).
In a television interview, Shah said, "The enemies of CPEC are involved in creating instability in Balochistan. Our next war would be fought against them."
"To further strengthen cooperation with China in all aspects of our bilateral relations, the security of economic development is very vital," he added.
Ministry of Interior is playing a lead role in CPEC security and has established multiple operational and working mechanisms to achieve the desired objectives.
Among them, the Joint Technical Expert Working has offered technological assistance on security management of CPEC.
The minister promised to ensure effective execution of decided matters for the successful completion of CPEC.
Earlier, the Pakistan government decided to take up new road projects to be included in CPEC in the annual meeting of Joint Coordination Committee (JCC) on CPEC, scheduled to be held in Beijing in November.
The decision was taken at a consultative meeting to review the preparations for the upcoming 10th JCC session.
Minister for Planning, Development and Special Initiatives Asad Umar chaired the meeting.
The minister expressed satisfaction over the preparations and suggested deliverables for the JCC.
Under the JWG on Transport and Infrastructure, Asad Umar agreed to take up DI Khan–Zhob highway project with the Chinese side for funding in the meeting of the respective JWG.
The meeting also agreed that new projects will be considered in the next JCC after approval of the PC-Is including Swat Express Way Phase–II and Peshawar-D I Khan Motorway.
Greater Peshawar Mass Transit was also discussed and it was decided that the project will be taken up with the Chinese side after the completion of feasibility study.
Progress on prioritized CPEC SEZs including Rashakai, Dhabeji, Alama Iqbal Industrial City (M3) was also reviewed.
Discussing the progress in industrial cooperation sector under CPEC, Asad Umar stressed the need to take immediate actions to encourage the Chinese investors to invest in SEZs.
He emphasized to enhance industrial competitiveness of business in Pakistan, through technology transfer, world class managerial and industrial practices and skills transferred from China.