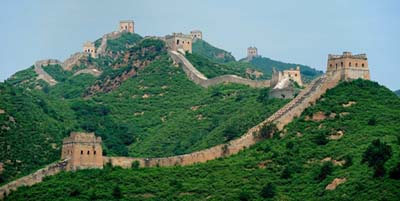 Ranikot Fort, Great Wall of Sindh
Abdullah Sarohi
Hyderabad: Ranikot, one of the largest forts of the world, has the potential to become a beautiful and scenic site for the local as well as international if developed in proper direction with availability of required facilities.
Ranikot, popularly known as the Great Wall of Sindh, had been declared as a world heritage site by Pakistan National Commission for UNESCO in 1993 under Antiquities Act 1975. This beautiful and mountainous site is being visited by nature lovers, historians and archaeologists for exploring its scenic beauty and lovely ascending and descending wall stretching for kilometres.
Like Mohenjo-daro, Gorakh Hills, Makli graveyard, Keenjhar lake and several other cultural and archaeological sites, Ranikot can be developed in such a way that it could be flourished as a tourist hub of Sindh.
Sindh, having thousands of years of history of ancient Indus valley civilization, is home to nearly 3000 sites and monuments of which 1600 are protected under the Sindh Cultural Heritage (Protection) Act – 1994 while the rest remain unprotected.
Ranikot Fort, presumed to have been built by former rulers for strategic purposes, is one of the largest forts of the world with a circumference of approximately 32 kilometres and is located 120 kilometres northwest of Hyderabad.
Some historians attribute this to the Arabs while remaining have claims that this fort was built by Sasanians (Persians), Greeks and some even go as far as to relate it to the Romans and the Great Wall of China but no one knows its ancientness because little work had been done to explore it.
The Chairman Sindhi Language Authority and writer Dr. Muhammad Ali Manjhi said Ranikot fort, was one of the oldest monuments of Pakistan, which had a history dating back to thousand years but unfortunately no one knew about its ancientness.
Like Mohenjo-daro, detailed archeological exploration is needed for historical assessment of this gigantic monument, Dr. Manjhi said while replying to a question.
He was of the opinion that Ranikot had also been used by 18th and 19th century rulers of Sindh, Kalhoras and the Talpurs as proved by radiocarbon tests of the collapsed portion of Sann Gate but they were not the original architectures of this great Fort and its great wall which stretches for about 32 kilometers.
"This enchanting fort is located on the right side of the mighty River Indus in the Lucky Mountain of the Kirthar range at about 30 kilometers from Sann town, writes Ishtiaq Ansari in his book 'Sindh ja Kot Ain Qilla'.
Ranikot is the 'fort of a rain stream – Rani. The rain stream runs through it and also irrigates fields in the series of turquoise pools, and leaves the fort on the eastern side of its most used 'Sann Gate.' It then travels 33 more kilometers to enter the mighty River Indus.
A mountainous ridge, "Karo Takkar", which runs north to south, forms its western boundary and its eastern boundary is made by the 'Lundi Hills.' A rain stream, 'Mohan Nai.' flows into the fort from its rarely used western 'Mohan Gate' where a small fortification guards it which changed its name to 'Reni' or 'Rani Nai' or the rain stream which gives its name to the fort as 'Ranikot'.
Most of the thirty two kilometers long wall is made of natural cliffs and mountain rock barricades, at places as high as two thousand feet above sea level. Only about eight or nine kilometers of wall is man-made, constructed from yellow sandstone while the rest of it is covered by the mountain rocks.
A spring that emerges from an underground water resource located near the Mohan Gate is named 'Parryen jo Tarru' (Fairy Spring). According to a tale, which local inhabitants narrate, fairies come from far and large to take bath near "Karo Jabal" (Black Mountain) on full moon night. One can hear splashing sounds of water falling on the rocks at another spring which is famously described as 'Waggun jo Tarru' (Crocodiles Spring) named so as the crocodiles once lived there.
The three fortresses inside the Ranikot are Miri Kot, Sher Garh and Mohan Kot. Mirikot takes its name from the word 'Mir, meaning top (for example, the top of the hill, the top leader of the tribes). Both the principal Ranikot and the inner Mirikot have similar entrances curved, angled with a safe tortuous path. "The bridge in front of Ranikot is like a smaller bridge in front of a castle in Verona, Italy," writes Ishtiaq Ansari, who was also a member of the Sindh Exploration and Adventure Society which had conducted a geological survey two decades ago.
The Mirikot is the safest fortress from the military point of view, as it is situated in the centre of the Ranikot, at a very safe place. Talpur Mirs made use of Mirikot as their fortified house. One can explore courtyard ruins, harem, guest rooms and quarters of soldiers within. The wall is 1434 feet long and comprises five bastions.
Each Ranikot structure has its own singularity and beauty. Looking up from Mirikot one can see another fortified citadel called Shergarh (Lion's Abode) made of whitish stone. The position at 1480 feet above sea level makes this fortress outstanding. The steep ascent to Shergarh gives a commanding bird eye view of the entire fort and its points of entry and exit. One can even see Indus on a bright day, the thirty seven kilometres to the East.
Mohan Kot, the third fortress, takes its name from Mohan Gate, due to its proximity to it. Mohan Kot is the place where military commanders would have lived.
There are two more gates, beside the Mohan Gate and the Sann gate. One is to the side of ancient Amri city. It is called 'Amri Gate'. In the South, Shahpir Gate appears to be a pseudo gate. It takes its name from a limestone rock having a rough foot shape imprinted on it. Supposedly, the sacred footprint belongs to Fourth Caliph Hazrat Ali (RA) or some other religious personality and is venerated by local people, Ishtiaq Ansari mentioned it in his book.
A mosque found at the fort appears to be a later watch tower alteration. One can keep an eye on the whole Ranikot from a place located near the mosque.
There are three graveyards at different places inside the fort where several ancient graves can be seen but no one knows who were buried there. Another graveyard is located one and a half kilometer away from the main Sann Gate. It had about sixteen graves. Local inhabitants call it the graveyard of the Romans. The Fort is historically lacking in shelters and shady areas, but the view of the field from the top of Hills' is not only enticing but also mystifying.
Rahimdad Khan Molai Sheedai, a historian, claimed that it was granted its strategic importance due to its position in Kohistan on Sindh's western border. Hence, they built the fort. Talpurs were also under threat from Durranis and Ranjit Singh and Ranikot added a lot to their defence.
In November 2017, Sindh Culture, Tourism and Antiquities department had signed a Memorandum of Understanding (MoU) with the Italian authorities to launch joint research activities in the field of history and archaeology, especially in connection with Bhambore and Ranikot but it had not been materialized due to lack of interest of the provincial government.
At that time, Sindh Minister for Culture and Tourism, Sayed Sardar Ali Shah had said that no one exactly knew how old Ranikot Fort was, but now research work would soon be started to uncover the mystery of this gigantic monument. He termed that agreement a major step towards exploration and development of the largest fort of the world.
Three year binding MoU is also meant to work together to develop a common programme for the training of the young officers of the department, Shah had hoped but nothing had been done during the said period.
To a question, writer and local resident, Haider Mallah said that no serious efforts had ever been made by the authorities concerned for the exploration of the site to ascertain the ancientness of this mysterious fort of the world.
In his research, Dr. N A Baloch had maintained that Talpur rulers might have built the fort as they had used it as a safe residence, Haider Mallah said and suggested that Mohan Gate could be used for radiocarbon testing to explore the mystery of the fort.
Veteran archaeologist Badar Abro in his research had also indicated some places including Mohan Gate for further testing so as to ascertain its ancientness, Mallah added.
Ranikot, a beautiful and talismanic place of Sindh, should be developed as a potential tourist hub for local as well as for the foreign tourists to visit and explore it. This site can be used for hiking, exploration and as a picnic point by the general public, students and nature lovers.
Government of Sindh should take concrete steps for construction of guest houses, huts and shops for the facilitation of the visitors and the tourists with required facilities so that exploration and hiking activities could be encouraged.