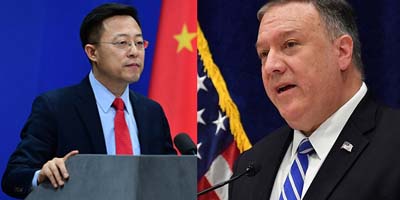 China to US: Stop fabricating lies
Newswire
Beijing: China has urged U.S. Secretary of State Mike Pompeo to respect facts and stop fabricating all sorts of lies about China.
"Otherwise, he will only further damage his own credibility, and undermine the US national image and interests," Chinese Foreign Ministry spokesperson Zhao Lijian said.
Zhao made the remarks at a regular press conference when asked to comment on Pompeo's recent accusation against the Chinese government of violating the human rights of its people.
The Chinese government attaches great importance to the protection and promotion of human rights, pursues the people-centered concept of human rights, and protects the rights and freedoms enjoyed by Chinese citizens in accordance with the law, he said.
Since the founding of the People's Republic of China 71 years ago, especially since the reform and opening up, China has made remarkable achievements in its human rights cause.
"During the third round of the Universal Periodic Review of human rights at the UN Human Rights Council, more than 120 countries fully recognized China's tremendous achievements in promoting and protecting human rights and commended China's contribution to the global human rights cause," Zhao said.
According to a survey by the Ash Center for Democratic Governance and Innovation at Harvard University's John F. Kennedy School of Government, Chinese people's overall satisfaction toward the government exceeds 93 percent.
The United States, by contrast, has a terrible record on human rights and religious freedom, he said.
In the country, scandals of racial discrimination, police brutality and prisoner torture have emerged one after another. The country has the world's highest rate of gun violence crimes, which cause tens of thousands of deaths each year. The number of mosques in the United States nationwide is less than one-tenth of that in China's Xinjiang region.
"What right does the United States have to make wanton accusations against other countries?" Zhao asked.