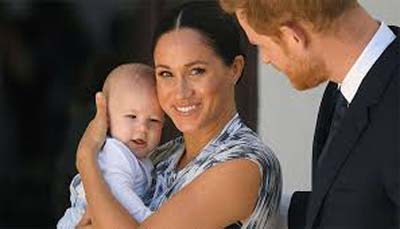 Archie has grown up a 'lot' during lockdown!
London: Ever since welcoming their son, Archie Harrison Mountbatten-Windsor, last May, Meghan Markle and Prince Harry have made it known how much they adore being parents. That said, they also make sure not to sugarcoat anything, with the couple only recently speaking out about how tough it was having a small baby while on a royal tour.
Now, the Duke and Duchess of Sussex, who stepped away from their senior royal roles in favour of a life in sunny Montecito (to be fair, it does look pretty lush over there) have given fans an update on their little one – and it sounds as though Archie is growing up ever so quickly in lockdown!
While speaking to incredible activist and Nobel Peace Prize winner, Malala Yousafzai, over a video call, Harry and Meghan said that they'd enjoyed being at home more over the last few months, as it meant they've been able to witness some important milestones for Archie. After Harry joked that they'd been spending a lot of their time on Zoom, Meghan added, "But outside of that, (we've been) with our little one."
Harry then agreed, saying, "We were both there for his first steps, his first run, his first fall, his first everything." We can't believe he's now running!
Meghan also shared how fortunate she feels having been able to watch Archie change. "It's just fantastic because I think in so many ways, we are fortunate to be able to have this time to watch him grow and in the absence of COVID, we would be travelling and working more externally, and we'd miss a lot of those moments… So I think it's been a lot of really good family time."
During their conversation with Malala, the Duke and Duchess discussed the importance of girls all over the world having access to education, with Meghan making the strong point that by fixing "that one thing, you end up fixing multiple problems… when women have a seat at the table, conversations about policy change, community… (they) shift."
Prince Harry also joked about his own school days, saying that while he may not have realised it at the time, he's now feeling "blessed" to have been afforded such an excellent education from a young age. Before we know it, little Archie will be off to school too!