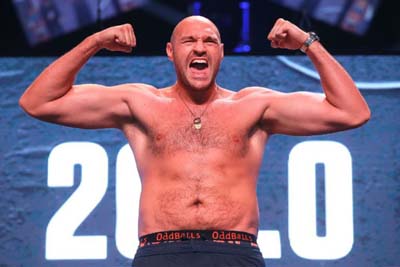 Tyson Fury's brother makes a huge announcement
Covert Report
WBC heavyweight champion Tyson Fury's brother, Tommy Fury, will return to action soon. He is eyeing a possible date in November for his upcoming fight.
Although the date is still not final, Fury vows to confirm it shortly. While he is still fresh from his latest victory against Przemyslaw Binienda in 2019, Tommy Fury has found the fire back to get inside the ring. He announced his next fight via social media, sending the combat fans into a frenzy.
However, he hasn't found an opponent yet. The light-heavyweight roster is one of the stacked divisions in boxing, and Tommy Fury won't have to dig deep to find a worthy one. That said, fight fans can expect a potential thriller when he reappears inside the squared circle.
The 21-year-old posted a clip on Twitter to allure the fans about his comeback. He said, "So guys, finally, I am delighted to come on here and inform you all that I will be fighting back in the ring in November.
"I am still working on a specific date in November, but I am pleased to tell you all finally because it has been a very long road, as you all know. I am feeling fit. I am in the best condition ever in my entire life, and I am ready to fight."
Although he is still new in the sport, Tommy Fury has already made a buzz with his performances. Winning his last two professional fights via TKO and his debut by decision, the young Brit boxer hasn't tasted defeat. Thus, he is often compared with his brother Tyson Fury. However, Tyson is 31 fights old in professional boxing, and Tommy still has a long way ahead.
If he continues to keep up winning, he can become another superstar from the Fury bloodline. Boxing is a lethal sport and Fury seemingly understands that. Thus, it is safe to believe that he will always try to keep up with the expectations.
Tommy's brother, Tyson Fury, has hinted at a return in December or before that. He is slated to face Deontay Wilder in an epic trilogy. However, he is also out of date at this point.