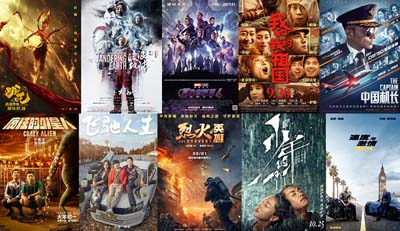 China, the world's second-largest film market, moves beyond Hollywood
Newswire
Beijing: As the country's box office aims to overtake the U.S.' this year amid the pandemic, industry observers say political tensions could lead to a permanent drag on major studios' bottom line.
Battered by the pandemic and growing political headwinds, Hollywood's business prospects in China are becoming bleak.
A state of tumult in Washington-Beijing diplomatic relations is putting greater scrutiny on Hollywood's film activities in the country, while the United States' failure to contain COVID-19 is forcing the industry to take its pedal off the accelerator in China's theatrical market at the worst possible time. The list of tensions, dustups and scandals grows longer by the day — and each incident has only served to undercut Hollywood's longterm foothold in the country.
"The trade and political environment has created a perfect storm of uncertainty," says Stephen Saltzman, an attorney for law firm Paul Hastings who often represents Chinese studios in Hollywood negotiations. "And uncertainty breeds caution, which leads to a lack of progress and impediments to growth," he says.
The feverish dealmaking and big-budget creative collaborations that characterized relations between the world's two largest entertainment markets over the past decade are not only gone for now, but unlikely to return soon, Saltzman adds.
The studios' weakening position in Beijing also is hitting the industry just as China is becoming an even more central pillar of the sagging global box office. With the COVID-19 crisis subsiding in China, the country's tens of thousands of theaters are operating at 75 percent seating capacity, and filmgoers are demonstrating little hesitation about returning to the multiplex.
During China's National Day holiday weekend running Oct. 1-4, cinemas brought in $325 million in ticket revenue, with two Chinese tentpoles earning more than $135 million each. In North America, where many cinemas are shuttered and the public remains legitimately concerned about the safety of moviegoing, theaters generated just $11 million in sales during the same period.
As China's box office roars back toward full capacity, analysts in Beijing have begun predicting that the territory will easily usurp North America as the world's top-grossing theatrical market in 2020. In the U.S., meanwhile, industry debate is focused on whether much of the damage done to the domestic theatrical film model might become permanent. On October 4, Cineworld, the owner of Regal, the second-largest cinema chain in the U.S., said that it was again shutting down all its theaters indefinitely.
For a generation, Hollywood's top priority in China was the improvement of market access, through the loosening of China's quota on film imports and other metrics. But the Trump administration's unresolved trade war and recent crackdown on telecom giant Huawei and apps TikTok and WeChat are undercutting the Motion Picture Association's campaign for greater market access and better box office revenue-sharing terms on the basis of China's free trade obligations.
The WeChat ban alone, if it eventually goes into effect — the Trump Administration's order is currently tied up in the courts — could introduce a not-negligible communication barrier between Hollywood and China. The Tencent-made super app is not only used by 3.3 million active monthly users in the U.S. and over 1 billion people in China, but it is also the primary, and oftentimes, the only means of communication in the Chinese film industry.
Disney's live-action Mulan, meanwhile, offered a case study in what can go wrong for a Hollywood studio when it designs a tentpole specifically to court the China market. The film's dual public relations disasters — its star, Liu Yifei, touting Beijing's pro-police stance in response to Hong Kong's pro-democracy movement, and a deeply ill-considered decision by Disney to shoot in China's Xinjiang Province, a site of ongoing human rights abuses against the Muslim minority — were compounded by Disney executives' decision not to speak out on the issues, presumably out of fear that they would politically offend Beijing and hurt their other business interests such as the $5.5 billion Shanghai Disney Resort.
Analysts point out that creating a Chinese-themed film that appeals equally to U.S. and Chinese audiences was always considered a challenging proposition in its own right. (For example, 2016's Matt Damon starring co-production The Great Wall cost $150 million and grossed only $45 million in the U.S. and $334 million globally.) But treading the political line between the two superpowers is starting to seem just as untenable.
Mulan's public relations missteps shone a harsh light on Hollywood studios' long-standing practice of making sure that their films don't touch on topics that the Chinese government finds politically unpalatable. In the new, acrimonious era of Sino-Washington relations, this issue has begun to attract rare bipartisan attention. In the wake of Mulan's stumbles, 19 members of Congress wrote a letter to Disney CEO Bob Chapek questioning the studio's cooperation with Chinese government propaganda authorities in Xinjiang. Director Judd Apatow also recently spoke out against the studios' policy of conveniently overlooking Beijing's human rights abuses, saying in a September MSNBC interview that "China has bought our silence." Some industry watchers now believe there is a possibility that the heads of the major studios will eventually be called before Congress to testify about their companies' pattern of self-censorship with respect to China.
Several other major Hollywood film projects related to China have been hit by controversy from entirely opposite angles. Netflix, which doesn't even operate its service in China because of Beijing's ban on foreign streaming platforms, found itself dragged into the fray over its high-profile plans to have Game of Thrones showrunners David Benioff and D.B. Weiss adapt the bestselling Chinese sci-fi trilogy The Three-Body Problem. A group of Republican senators dug up a 2019 interview that the books' Chinese author, Liu Cixin, gave to The New Yorker, in which he responded to a question about China's mass internment of Muslims in Xinjiang by saying, "Would you rather that they be hacking away at bodies at train stations and schools in terrorist attacks?" Led by Sen. Marsha Blackburn (R., Tenn.), the lawmakers issued a Sept. 23 letter to Netflix co-CEO Ted Sarandos, asking the streamer to justify its collaboration with Liu, describing him as "an individual who is parroting dangerous Chinese Communist Party propaganda."
The letter also suggested that by collaborating with Liu, Netflix would be "normalizing" China's human rights transgressions. Unlike Disney, Netflix responded forcefully to the senators, stating that "Mr. Liu's comments are not reflective of the views of Netflix" and that the company "do[es] not agree with his comments, which are entirely unrelated to his book or this Netflix show." The response appeared to quell the controversy for now, but it could return to public attention as The Three-Body Problem moves into production and when it approaches release.
"Every case is different, but what we have are extremely sensitive political reactions from every side whenever China is involved in a Hollywood movie right now," says Stanley Rosen, a USC professor who specializes in China's film industry and soft-power policies.
Worse still, U.S. studios are already losing their grip on consumers in China. In 2019, Hollywood accounted for only two of China's top-grossing films of the year — the lowest share in more than 20 years. Thanks to the pandemic, 2020 is shaping up to be far worse. "As in many international markets, Hollywood films appeal most in bigger-city environments," says Rance Pow, president of consulting firm Artisan Gateway. "But much of China's recent cinema expansion has been in smaller tier-three cities and below."
Pow adds: "The rising quality of Chinese filmmaking also is a key factor. It is no surprise that Chinese audiences are appreciating films they relate to, in their own language, and we expect that interest will continue to grow."
Some China watchers believe the recent political tensions, combined with the unique implications of the pandemic, could be creating the possibility for a much more permanent drag on Hollywood's bottom line in China. Since the U.S. studios have been forced to perpetually delay the global release of their tentpoles due to high coronavirus infection rates in North America, China is getting a dry run at doing without Hollywood blockbusters altogether. Meanwhile, as the first weekend of October demonstrated, Chinese studios have a healthy backlog of high-quality tentpoles of their own to unfurl in Hollywood's absence over the next however many months.
Theatrical film always has been an outlier in China's controlled media environment. In the news media, on TV and in the tech sector, foreign content has been allotted far less access than the 40 percent to 50 percent market share that Hollywood movies have traditionally enjoyed. On TV, for example, foreign shows are banned during primetime, and regulators require local streamers to limit the non-Chinese portion of their libraries to 30 percent or less (in practice, U.S. content has tended to take much less).
China's regulators have allowed Hollywood theatrical movies a larger place in public life for legacy structural reasons. Over the past 25 years, the country needed Hollywood's bankable product to help build out its vast, nation-spanning exhibition infrastructure, and it was thought that Hollywood's contribution to the box office was essential to keeping local cinema chains expanding. Leveraging global free trade norms (which President Trump has upended), the MPA also had success over the years in lobbying Beijing to allow Hollywood participation in China's consumer economy. In recent years, it also was believed that Beijing would pay a precarious social cost if it ever decided to block Hollywood films from cinemas altogether. Since the general public had become so accustomed to enjoying imported movies, erasing them from daily life would call abrupt, unwanted attention to the government's heavy hand on personal liberties — or so the thinking went.
But now COVID-19 has done the job of banishing Hollywood films from Chinese screens for the foreseeable future — and Chinese cinemas appear to be recovering just fine. The notion of American soft power through popular culture is arguably less appealing, or even palatable, to the Beijing leadership than at any time in recent memory. Says Chris Fenton, author of the recent China-Hollywood book Feeding the Dragon and a trustee at the U.S.-Asia Institute: "If the government starts to see that Chinese films are doing well and the box office is bouncing back without Hollywood's help — and the consumer seems to be forgetting all about U.S. movies because their own blockbusters are becoming more and more entertaining — you have to ask yourself: Why wouldn't they start weaning their public off American movies?"