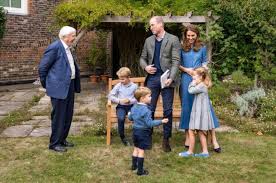 Prince George story that backfired for William and Kate
Covert Report
London: Prince William and Kate Middleton have found their eldest son, Prince George, inadvertently at the centre of an awkward debate after what was meant to have been a sweet story shared with the public. Oh dear, oh dear.
Last week, photographs were released of Sir David Attenborough visiting the Cambridge family at their home in Kensington Palace for a special screening of his new documentary, A Life On Our Planet. Along with a picture that showed Prince George, Princess Charlotte and Prince Louis to be absolutely overwhelmed at meeting their TV idol, another photo depicts seven-year-old George examining a gift given to him by the world-famous naturalist. The present was a fossilised tooth from an extinct type of shark; a Carcharocles megalodon, which was one of the most feared predators to have swum in the seas.
The incredible memento was found by Sir David during a family holiday to Malta in the late 1960s, and is thought to be around 23 million years old. However, upon publication of the story of how he came to attain it, Malta's culture minister has kind of suggested they might want it back. Well, that's awkward.
Speaking to the Times of Malta newspaper, minister Jose Herrera said: "There are some artefacts that are important to Maltese natural heritage and which ended up abroad and deserve to be retrieved.
"We rightly give a lot of attention to historical and artistic artefacts. However, it is not always the case with our natural history. I am determined to direct a change in this attitude," he continued.
It's arguable that fossils such as the shark tooth in question could fall under the definition of cultural heritage as a "moveable or immovable object of geological importance."
As ITV's Royal Editor Chris Ship put it on Twitter: "I doubt this was how Kensington Palace thought the story would go."
It remains to be seen whether or not Malta really will prize the fossilised shark tooth out of the young Prince's hands, but it has been reported that such items aren't totally uncommon, so hopefully they'll let George keep this one and set their sights on finding another. I mean, it's fair to say that Sir David Attenborough has done more than his fair share of good for the environment, so maybe we can let this one go as a thanks?
Still, anyone else feel a bit awkward? Let's swiftly move the conversation on to the weather or something.