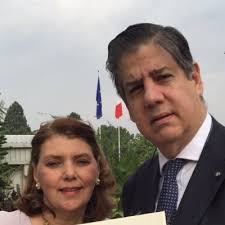 Ambassador Stefano Pontecorvo – extraordinary diplomat – outstanding husband, perfect father
S. Ali
Kabul: He burns the midnight oil to achieve the diplomatic goals set by his country, the world and himself but Ambassador Stefano Pontecorvo has some personal ambitions too – to see a smile on the face of his beautiful daughter and wife.
Last week, the veteran diplomat expressed love for his daughter Ellie Pontecorvo who lives in the United States – far away from Afghanistan where Ambassador Pontecorvo serves as NATO's Senior Civilian Representative.
"You may have outgrown my lap but you will never outgrow my heart Ellie. You may be on the other side of the ocean but you are with me every moment of every day, the sunlight that shines on Mom and me. We will always be there for you. Love you forever," he wrote on his Facebook page on daughter's day (September 27), tagging his wife Lidia Ravera Pontecorvo and daughter Ellie Pontecorvo.
Ellie Pontecorvo, immediately replied: "Love you, daddy. Miss you always." Lidia Ravera Pontecorvo played her role well, acknowledging all the friends and family members who liked, reacted to or commented on the post. "Thank you all! Having been "Daughter's Day", I extend my wishes to those of you who are lucky enough to have a daughter in their life."
Ambassador Pontecorvo – an extraordinary diplomat – is also, no doubt, an outstanding husband and a perfect father. At the same time he is a great friend who always finds time for his mates.