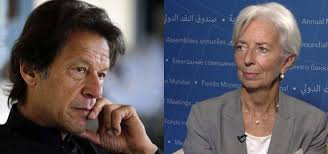 IMF wants end to subsidy on electricity, gas
Islamabad: The International Monetary Fund (IMF) has imposed another strict condition on Pakistan to continue its loan program and demanded that the subsidy of utility stores including electricity and gas be abolished.
The IMF has demanded an end to subsidies for utility stores, including electricity and gas, and set up a special cell in the finance ministry to consider IMF demands.
The special cell, headed by former finance secretary Dr Waqar Masood, will formulate its recommendations to eliminate unnecessary subsidies and make recommendations for the implementation of economic reforms.
The government had allocated Rs 209 billion in subsidies for various sectors this year. A subsidy of Rs150 billion has been earmarked for the energy sector, Rs 3 billion for utility stores, Rs 13 billion for cheap wheat and Rs 2 billion for metro bus service. While Rs 30 billion has also been allocated for the Naya Pakistan Housing Project in the form of subsidy.
Out of the $6.6 billion loan program approved by the IMF for Pakistan, the government has so far received only $ 1.44 billion.