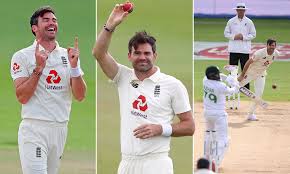 The 600 Test wickets club Muralitharan, Warne, Kumble and now Anderson
London: James Anderson has entered a league of his own as he became the first fast bowler in the history of the game to take 600 wickets in Test cricket.
The English pacer joined a trio of retired spinners – Sri Lanka's Muttiah Muralitharan (800), Australia's Shane Warne (708) and India's Anil Kumble (619) – in the exclusive 600 Test wickets club.
Kumble and Warne took to social media soon after Anderson achieved the milestone to congratulate the 38-year-old fast bowler.
"Congratulations @jimmy9 on your 600 wickets! Massive effort from a great fast bowler. Welcome to the club," Kumble tweeted.
Former Australia leg-spinner Warne said it was a "proud moment" for the England bowler.
While the 600 Test wickets club got its fourth member last month, there are seven players who have gone past the 500 wickets mark in the longest format.
Interestingly, the top three bowlers on the list may be spinners but with Glenn McGrath, Courtney Walsh and Stuart Broad, along with Anderson, there are now more fast bowlers than spinners who have taken 500 wickets in Test cricket.
Anderson's achievement has been 17 years and 156 matches in the making, a journey that started when he dismissed Zimbabwe's Mark Vermeulen in 2003. The tributes for him have centered on the fact that he has got to 600 Test wickets despite being a fast bowler. With the wear and tear a pacer's body goes through, it is indeed remarkable that the Englishman has played 156 Test matches and achieved everything he has.
All four of these greats who have scaled Mount 600 – Muralitharan, Warne, Kumble and Anderson – helped their respective teams to innumerable victories and sustained a high level throughout their lengthy journeys in international cricket.