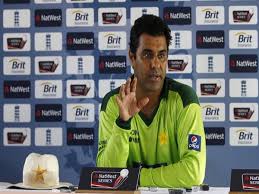 Waqar Younis supports 'one brand of ball' for Test cricket
Covert Report
Pakistan bowling coach Waqar Younis has advocated for the use of one brand of ball for Test cricket. Currently Dukes ball is used in England while Australia banks on Kookabura and SG has a big market in India. Waqar Younis has personally advocated for Dukes ball but wants the governing council to take a firm call.
Younis also said that it doesn't matter which brand of ball but the council must take a decision as it is difficult for bowlers to use different types of ball when they play across the world.
"I have been a big advocate of the Dukes ball for many years but I feel that only one brand of ball should be used around the world for Test cricket," Younis wrote in a column for the Pakistan Cricket Board.
"It doesn't matter which brand but the ICC should make that decision. It's hard for bowlers to adjust to using different types of ball when they play around the world."
Waqar Younis also believes that fast bowling has been trademark for the side and they will be back on top again.
In the recent times with the senior Pakistan fast bowlers ammunition ageing the side has to be largely dependent on youngsters. Naseem Shah and Shaeen Shah Afridi have shown their potential but still have plenty to prove.
Fast bowling is the trademark of Pakistan cricket," said the 48-year-old Waqar, an outstanding fast bowler, in a Pakistan Cricket Board website column.
Pakistan recently lost the Test series against England and salvaged a draw in the three-match T20I series.
The pace attack led by Shaheen and Naseem failed to deliver consistently in the series against England. But the duo can grow into the game with their experience in the near future.