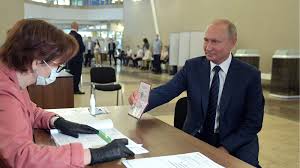 Russians overwhelmingly back Putin's constitutional reforms
Moscow: Russians have overwhelmingly backed constitutional reforms that will allow President Vladimir Putin to potentially extend his rule to 2036, the Central Election Commission (CEC) said Thursday.
With all votes counted, the CEC said that 77.92 percent of voters had backed the reforms, with a turnout of about 65 percent. Just over 21.2 percent had voted against them, it said.
Ella Pamfilova, head of the commission, said the vote had been transparent and that officials had done everything to ensure its integrity.
"Thank you very much for your support and trust," Putin said to Russian voters in a televised broadcast after the announcement of the results. He reiterated that the amendments were necessary to "improve the political system and fortify social guarantees" as well as "strengthen sovereignty."
"Very little time has passed since the break-up of the Soviet Union," Putin said, stressing that Russia is still "very vulnerable in many respects."
"We need internal stability and time to strengthen the country and its institutions," he added.
The results "show that an overwhelming majority of Russian citizens believe that we can work better," and the government "must do everything to justify this trust," he said.
Russians began voting last week on the package of constitutional changes proposed by Putin in January, including a reset of presidential term limits allowing him to run twice again after his current six-year term ends in 2024.
Other amendments would strengthen presidential and parliamentary powers, enshrine traditional values, including an effective ban on gay marriage, and guarantee better minimum wages and pensions.
Russia's two houses of parliament previously approved the amendments but Putin said they would only take effect if supported by a majority of voters. Initially scheduled for April 22, the vote was postponed due to the COVID-19 outbreak in Russia.
"The president is the guarantor of the constitution or, simply put, the guarantor of the country's security, domestic stability and, as I said before, evolutionary development," Putin said in a speech at a State Duma plenary session in March.
"I have no doubt that the day will come when the supreme, presidential power in Russia will not be so personified, if I may say so, that it will not be connected to a certain individual," he added.
In a recent TV interview, Putin said he does not rule out the possibility of bidding for another presidential term if constitutional amendments are adopted. "I have not decided anything for myself yet. I don't exclude the possibility of this. If the constitution allows the opportunity, we will see," he said.
Chinese Foreign Ministry spokesperson Zhao Lijian said Thursday that the results indicate the choice of the Russian people.
"As a friendly neighbor and comprehensive strategic partner of coordination for a new era, China, as always, will respect the development path chosen by the Russian people and support Russia's efforts to achieve long-term stability and security and promote social and economic development," Zhao said at a regular press briefing.
During a phone call on Thursday, Indian Prime Minister Narendra Modi "warmly congratulated President Putin on the success of celebrations marking the 75th anniversary of the victory in the Second World War and the successful completion of the vote on constitutional amendments in Russia," according to a statement of the Indian Foreign Ministry.
Russia held a postponed Victory Day parade at Moscow's Red Square on June 24 to celebrate the 75th anniversary of the victory of the Great Patriotic War.