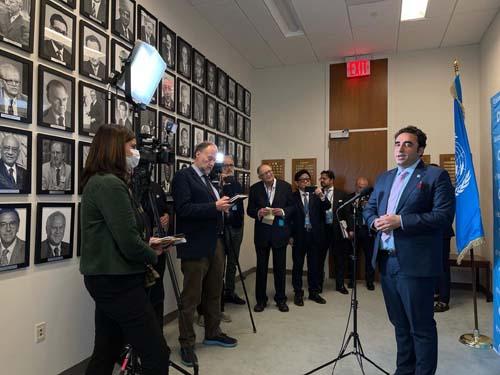 Bilawal Bhutto urges 'restraint' over Lahore clashes
Staff Writer
Islamabad: Foreign Minister Bilawal Bhutto Zardari this week called for restraint on everyone's part and to stay within democratic norms when international reporters at the UN asked for his comments on the clashes in Lahore that left one opposition party worker dead.
"I think that it is important for everyone to restrain themselves to within the democratic framework and it's important to be playing one's role within parliament, within the democratic system," Bilawal, who is also co-chairman of Pakistan People's Party (PPP), said as he emerged from the 'Women in Islam" conference which is being presided by him.
"What you're seeing is what happens when half of the parliament, or when the opposition decides that the constitution doesn't apply to them, that democratic structures don't apply to them, the National Assembly doesn't apply to them, and they take to the streets or to social media or other forms", he said.
"While that is legitimate and that's their right, a more productive way forward for the people of Pakistan would be to work within the institutions of democracy."
Earlier, the United Nations, while upholding the people's right to peaceful protest, called for the security forces to exercise maximum restraint.
"For us the important thing is that all peaceful protests must be able to go ahead without hindrance," UN Deputy Spokesman Farhan Aziz Haq said in response to a question about the events in Lahore at the regular noon briefing.
"It's clear to us that wherever they (rallies) take place in the world, people have the right to peaceful protest and security forces around the world should allow them to go forward," the spokesperson said.